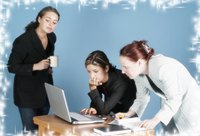 Unhealthy workplace relationships create stress and minimize productivity. People function well as a team when they have clear rules and guidelines of how to work well together. Organizational rules and protocols should be in place and implemented, particularly by management, for employees to follow.
Create Clear Structure
A clear structure minimizes confusion regarding responsibility and assigned tasks. Establishing a clear hierarchy within the organization lets people know the chain of command when questions arise about their job duties. They know when giving feedback is appropriate, and whom they take assignments from, as the University of California, San Francisco's Human Resources website points out. Workplace relationships also tend to go much more cohesively when employees know who they are responsible for supervising or who to collaborate with.
Keep It Professional
Employees who wish to date each other are likely to do so discretely even if forbidden. Organizations don't necessarily forbid employees from dating each other, rather, instill policies that keep relationships professional while in the workplace. Obvious signs of affection during working hours are inappropriate, and personal arguments should be kept out of the workplace. The organization should clearly articulate a policy of keeping all relationships professional during working hours.
Address Stress
Stress is inevitable in any workplace, and can be beneficial. However, high levels of stress can minimize productivity and "burn out" employees sooner. Because stress can create a hostile work environment by making employees nervous or likely to lose their temper, take action to help employees reduce their stress. Hold a seminar on how to deal with stress, with advice for reducing stress by eating a balanced diet, minimizing caffeine, exercising and resolving problems through clear communication, as Jane Cranwell-Ward and Alyssa Abbey suggest in "Organizational Stress." Managers should also receive training for recognizing the symptoms of stress and helping the employee to resolve the stress, as the authors suggest.
Use Discretion
All employees, including managers and supervisors, should refrain from sharing information that may be harmful or offensive to others. Likewise, employees should not give out information the organization does not want them to share with the public. Employees should not even share confidential information with their families, or gossip about clients, to preserve the organization's reputation.