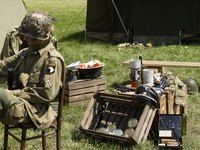 Social Security requests to see documents such as birth certificates, marriage certificates and tax returns in connection with claims for benefits. The agency also routinely requests applicants to submit a DD214—Report of Separation from military service. The DD214 helps Social Security ensure service members receive all Social Security credits due them based on their military service.
Eligibility and Benefit Amount Determination
Eligibility for Social Security benefits and the benefit amount depend on the amount a person has earned. Employers, including branches of the U.S. military, report Social Security-covered earnings annually. If for any reason the reported earnings do not appear on Social Security's records, the agency can use proof the worker has in his possession—such as a DD214—to establish wages. The DD214 contains information the Social Security Administration needs—name, branch of service, enlistment and discharge dates, ranks and grade—to calculate wages missing from the applicant's record of Social Security earnings.
Lag and Pre-lag Military Wages
Since wages are not reported until after the end of the year earned, a lag time exists between when wages accrue and when they appear on Social Security's records. The lag year is usually the year prior to the year of application for benefits. If the applicant can submit a DD214 for the lag year, Social Security can include those earnings when calculating benefits. If earnings are missing for the second year or earlier prior to the year of application—a prelag year—Social Security can use the DD214 to credit the missing earnings rather than send investigative requests to the military branch involved or do extensive searches of its own records.
Military Service Wage Credits
Members of the military did not pay into Social Security prior to 1957. If needed to qualify an individual for benefits, Social Security can credit $160 in monthly wages for any months of active duty from Sept. 16, 1940 to Dec. 31, 1956. These credits are available if the service member's active duty lasted at least 90 days and the discharge was for reasons other than dishonorable. U.S. military service is service for the U.S. Army, Navy, Air Force, Marine Corps or Coast Guard, including military branches established for women such as the Women's Army Corps. A DD214 is sufficient to establish the right to these additional Social Security credits.
Deemed Military Service Credits
Effective 1957, members of the military service paid Social Security taxes on their military wages at the same rate as civilian workers. However, some forms of remuneration military service members receive—such as food, housing allowances or base housing—are not covered by Social Security. Covered military earnings were low, resulting in low Social Security benefits for retired or disabled military or their dependents. To provide improved Social Security coverage for service members, Congress created additional "deemed" wages. Social Security adds from $100 to $300 quarterly to earnings under Social Security for military members without requiring additional Social Security taxes. The credits affect military service wages from 1957 through 2001. Data on the DD214 ensures Social Security can credit the deemed wages for all years if credits are not already posted correctly.