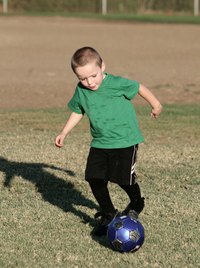 Youth counselors help troubled young people correct destructive behavior, acquire life skills, manage anger and build self-esteem. These professionals often work in community centers, group homes, shelters and mental hospitals. According to PayScale, as of January 2011, residential youth counselors in the U.S. earned average salaries between $23,020 and $31,339 a year. According to the Bureau of Labor Statistics (BLS) professionals that provide human, social and community services averaged $29,880 annually.
Salaries Based on Experience
Average salaries for youth counselors increase marginally over time as they build work experience. PayScale reports as of January 2011 that residential youth counselors with less than one year of experience earned starting salaries ranging from $19,442 to $25,434 annually. Those with one to four years of experience earned between $24,198 and $35,534, and those with five to nine years of experience earned between $24,819 and $37,000 per year. Residential youth counselors who had been working 10 or more years received annual wages ranging between $24,016 and $37,290.
Salaries by Location
PayScale reported that, as of January 2011, New York, Virginia and California paid the highest salaries to residential youth counselors: $48,650, $42,115, and $42,000 respectively. According to the the BLS, youth counselors are categorized as social and human services professionals. Average annual salaries in 2008 were reported to be the highest in Connecticut ($41,430).
Salaries by Gender
The salaries of female and male youth counselors differ slightly, with male youth counselors averaging slightly more than their female counterparts. Average salaries for female residential youth counselors ranged between $23,835 and $35,330 as of 2011, according to PayScale. Average salaries for male youth counselors ranged between $25,122 and $36,152.
Salaries by Industry
According to PayScale, as of January 2011, residential youth counselors working in youth services earned average salaries ranging between $25,397 and $30,518 per year. Non-profit organizations specializing in children's services paid youth counselors average salaries of $19,900 to $32,500 per year. Residential youth counselors working in community mental health centers reported the highest average salaries, earning between $24,500 and $67,500 per year. In comparison, the BLS reported that as of 2008, social and human service assistants working in residential, mental health and substance-abuse facilities received an average annual wage of $24,770. Workers employed in organizations providing individual and family services averaged $28,340 yearly.