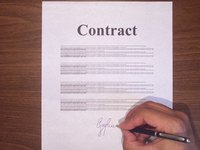 To sell shares to the general public, a corporation must comply with burdensome reporting and disclosure requirements under the 1933 Securities and Exchange Act, and with Securities and Exchange Commission regulations. If a potential investor qualifies as an "Accredited Investor" under SEC regulations, however, the requirements are greatly simplified.
Accredited Investors
The concern underlying the Securities and Exchange Act of 1933 was that naive investors would be bilked by unscrupulous corporations attempting to raise money from the public. Consequently, public stock offerings require issuing corporations to reveal detailed information about their finances, greatly complicating the share purchase process. SEC regulations allow an exception to these requirements if the investors are "Accredited Investors" -- investors who meet certain qualifications designed to establish that they are qualified to accurately assess the value of corporate shares. Directors, executives and general partners of the issuing corporation qualify, as do investors who meet certain minimum income requirements such as mutual fund administrators. The terms of the agreement and the identity of the purchasers should clearly establish that the purchasers are Accredited Investors.
Share Purchase
The share purchase agreement should state how many shares are being offered to whom, and at what price. It should require the corporation to issue share certificates to each investor. It is also common for the corporation to reserve the right to cancel the agreement and refund the purchase price in case of fraudulent misrepresentation by an investor, particularly any misrepresentation affecting his status as an Accredited Investor.
Private Placement Memorandum
Even though the shares are being sold to Accredited Investors, the issuing corporation is subject to certain reporting obligations. The corporation must supply its financial statements, along with other documentation concerning its financial status, in a Private Placement Memorandum. This document should be attached the the share purchase agreement as an appendix, and the body of the agreement should specifically include it as a part of the agreement itself.
Purchaser Obligations
The share purchaser should undertake certain obligations to protect the interests of the issuing corporation. He should indemnify the corporations against any adverse financial consequences that may occur if he misrepresents information. For example, if he supplies false or misleading information that indicates he is an Accredited Investor when he is not, he should be obligated to pay any SEC fines and legal fees that result. The investor should also agree to keep confidential any proprietary corporate information contained in the Private Placement Memorandum, and refrain from using proprietary information to compete against the corporation.