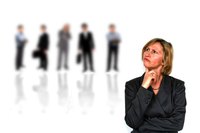 Workplace relations consist of those relationships that exist in the workplace between coworkers as well as between workers, supervisors and executives. The successful management of these relationships is vital, as workplace relations can have a strong impact on an organization's bottom line. While it's impossible to force employees to like each other, it is reasonable for managers to expect workers to relate to one another in a civil and respectful manner to ensure workplace objectives are met.
Significance
Employee relationships affect individual workers, collective work teams, business units and the organization as a whole. Poor workplace relations create tensions which emanate far beyond the individual employees involved. The increased stress involved with poor workplace relations affects employee engagement and retention, as well as individual and overall performance and productivity. Widespread damage to trust in the workplace in recent years has affected many American businesses. Deloitte LLP's 2010 Ethics & Workplace Survey found that one third of American workers intend to seek new employment once the economy rebounds from the recession. Forty-eight percent of those cite a lack of trust in the workplace for their determination to leave.
Organizational Culture
It is essential to cultivate an organizational culture of honesty, integrity and trust to ensure positive workplace relations. Workplace relations in many organizations suffer because of an extreme gap between the organization's espoused culture and its actual culture. The espoused culture is the ideal work environment which leaders say the organization maintains. For example, a company might have a mission statement that says its purpose is to provide goods and services in an honest and ethical manner. However, if employees see that their leaders and coworkers do not live up to that espoused culture, workplace relations are damaged.
Communication
Honest and open communications are vital to effective workplace relations. Managers must lead by example, creating an environment where workers are encouraged to share both positive and negative input. Credibility is also important, as managers and supervisors should want workers to believe what their leaders say.
Improving Workplace Relations
Workplace relations can be improved by creating a strategic plan to cultivate a positive organizational culture. This process begins with the evaluation of the existing mission statement to ensure it clearly states why the organization exists and how it intends to do business. Leaders must then create policies and procedures designed to close the gap between the espoused culture and actual culture. Getting input from workers and following through on implementing these changes will help build trust within the organization. Finally, leaders must reevaluate workplace relations once new policies and procedures are in place to determine whether additional adjustments are necessary.