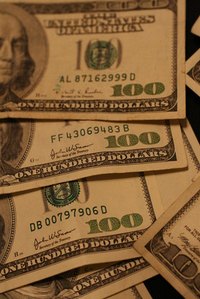 A FOREX trader (FOREX stands for foreign exchange) - also known as a currency trader - is responsible for the timely buying and selling of foreign currencies. He recommends competitive foreign exchange rates based on market performance, buying currency when he thinks it is undervalued and selling it when it appreciates, making a profit on the difference between the purchase and sale price. His salary depends on a number of variable elements relating to his employment situation..
Average Salary
Figures published by the salary comparison website PayScale.com list the average annual salary of a foreign exchange trader working in the United States to be $67,696 to $140,018 as of January 2011. This equates to a monthly income of between $5,641 and $11,668. The precise figure a trader receives will depend on the amount of bonuses, profit sharing and commission he receives. He may also be eligible for additional benefits such as a pension provision and health coverage, depending on the terms of his contract.
Salary by Employer
The survey conducted by PayScale.com at the start of 2011 suggests that a FOREX trader is likely to receive the best salary when contracted to a banking firm -- $54,308 to $101,736. In contrast a self-employed foreign exchange trader achieves an average annual salary between $37,500 and $76,373. A FOREX trader who finds employment with private companies other than banking firms receive an average of $58,500 to $88,489.
Salary by Experience
PayScale.com also found that over the first 20 years of a foreign exchange trader's career, his earning potential rises as he gains more and more experience. While the salary for a trader with fewer than 12 months in the profession was listed at an average of $40,500 to $75,000, it rose to $48,696 to $77,419 after one to four years, $66,000 to $99,995 for an individual who had spent between five and nine years as a trader, and reached $62,500 to $142,456 after gaining between 10 and 19 years in the job.
Salary by Location
PayScale.com also broke down the figures in its January 2011 survey of FOREX trader salaries to show how income varies across four different American cities. A trader working in New York had the best chance of receiving the highest levels of pay, averaging between $59,749 and $97,211. Chicago offered a rate of $45,000 to $92,500, followed by Boston - $47,166 to $82,407 - and Los Angeles - $39,000 to $60,000.
Salary by Gender
Another interesting variation turned up in the PayScale.com data is the difference between average FOREX trader salaries for men and women. Male FOREX traders are listed as receiving an average annual wage of between $60,145 and $102,091 while their female contemporaries got $36,174 to $75,000.