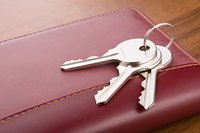 If you owe back taxes and don't make arrangements to pay, the Internal Revenue Service can seize your property to settle the debt. Legal seizure of property to satisfy a tax debt is called a levy. The IRS frequently levies income and financial assets such as wages and bank accounts. Levies of physical assets such as real estate, cars and jewelry are less common. Before seizing any property, the IRS must follow strict legal guidelines.
Levies on Wages, Salaries and Retirement Income
The IRS may place a levy on your wages, salary, commissions or your retirement income, including Social Security and annuity payments. Such continuous levies continue to claim funds every payday until released by the IRS. Part of your income – equal to the standard deduction and exemptions on your income tax return for the year the levy is served – is exempt from levy. An amount required to pay court-ordered child support also is exempt. Levies on federal pensions and Social Security benefits are limited to 15 percent of your monthly payment. Employers generally have a full payday after receiving a notice of levy on wages before they begin withholding funds from your paycheck. This gives you time to contact the IRS and work out an alternative payment arrangement.
Levies on Financial Assets
The IRS can levy financial assets such as bank accounts, dividends, rental income, accounts receivable, certain retirement accounts, state tax refunds and the cash loan value of your life insurance. To do so, the IRS sends a notice to the entity that holds these assets, such as your employer, bank or investment firm. After receiving the notice, the account holder must release your funds to the IRS within a certain time frame. In most cases, a levy on a financial account applies only to the funds in the account on the day the bank receives the notice, not to any funds deposited later. Note that the IRS can access funds in retirement accounts only if you are able to do so.
Levies on Real and Personal Property
The IRS can seize and sell any type of real or personal property that you own or possess an interest in, including your home, car, boat, jewelry or art collections. Before doing so, however, the IRS must determine that your equity in the property exceeds any liens and projected expenses of selling it. Levies against non-cash property are relatively rare. In Fiscal Year 2013, for example, the IRS seized property from only 580 taxpayers, according to a report by the Treasury Inspector General for Tax Administration.
Property Exempt from Levy
In addition to the wage exemptions discussed earlier, tax law exempts certain property from levy, including your family's clothing and school books. Fuel, provisions, furniture, personal effects, livestock and poultry worth up to $6,250 are exempt. Business books and tools of a trade, business or profession worth up to $3,125 also are exempt, as is tangible personal or real property (other than rental property) used in your trade or business. The IRS cannot levy unemployment or workmen's compensation benefits, certain public assistance payments, service-related disability payments or certain pension and annuity payments. If you owe less than $5,000, the IRS cannot seize your primary residence. No matter how much you owe, the IRS must obtain approval from a U.S. District Court judge or magistrate before seizing your home.
How to Avoid, Appeal or Obtain Release of a Tax Levy
To avoid a levy, stay in contact with the IRS, which can levy property only after sending a bill that you neglect or refuse to pay. Even then, the IRS must send a Final Notice of Intent to Levy and Notice of Your Right to a Hearing at least 30 days before the levy. At this point, you can avoid a levy by demonstrating that you are unable to pay, agreeing to pay in installments or making an offer in compromise -- an agreement in which the IRS agrees to settle the debt for less than the full amount. To appeal a levy, request a Collection Due Process hearing with the Office of Appeals within 30 days of receiving the Final Notice of Intent to Levy. Consult IRS Publication 1660 for more information about the appeal process. If a levy causes a financial hardship, making it impossible for you to pay reasonable living expenses, contact the IRS and explain your situation. The IRS may agree to release the levy. You can consult the free Taxpayer Advocate Service if you need help negotiating with the IRS.