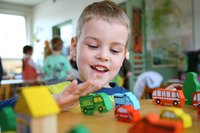 The Child and Depend Care Credit is available to parents or guardians who pay for care for their children or other dependents, including daycare. This requires the daycare provider to fill out Form W-10, the Dependent Care Provider's Identification and Certification form. It is not to be filed with the IRS but given to the guardians of children in your care for their tax return.
Form W-10: Part 1
Part 1 of Form W-10 asks for basic information, including the Dependent Care Provider's name, address, and tax identification number. If you do not have a tax identification number, you can use your Social Security number. To avoid the risk of identity theft, however, it is recommended that you use a tax identification number, which is easily obtained by applying online at the IRS website (see Resources).
Form W-10: Part 2
Part 2 of the W-10 is to be completed by your client. It asks for the name and address of the person requesting the W-10 form. Once you fill out Part 1, your client uses the form to file with her own taxes to receive the Child and Dependent Care Credit.