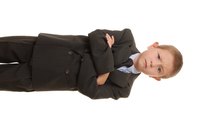 No matter what age your children are, they can earn extra money and learn valuable lessons in finance and responsibility by starting their own kid's business. If you discuss with your children the basics of starting a kid-owned business they can easily convert their skills and interests into a money-making good time. With creative ideas and minimal supervision resourceful youngsters can become young entrepreneurs.
Build On Skills And Interests
One of the main components of a successful kid-owned business is a sincere interest in the product or service provided. Another important factor is their natural abilities and skills. For instance, if your daughter enjoys arts and crafts a custom gift making business may suit her well. If you have a son who excels in academics, he may find great success--and profit--as a tutor to other children. Children are less likely to loose interest and more likely to succeed when operating a business that captures their interest and exhibits their skills and expertise.
Intensive Business Planning
Kids are often easily excited and tend to sometimes act on impulse, but starting a business without a detailed plan can be detrimental to their goals. The first thing your child should do is create a well thought out business plan. Help your child compose lists of all materials, equipment and supplies he will need to run his business with an estimate of what they will cost. Encourage him to consider the amount of time it will take to perform his services and what amount of money he would like to earn. By comparing his figures he can then establish a reasonable price range for his services or products and form reasonable expectations about how his business will function.
Stand Out From Competitors
As in adult oriented businesses, kid-run companies often find a fair share of competition and need to stand out from their competitors. Help your child find a niche that is in popular demand, but unique enough to be more favorable than the competition. For example, if your son is competing with other neighborhood kids in the leave raking business, recommend that he adds hedge trimming or lawn mowing services to gain the upper-hand. If he's has an exterior car washing business that competes with another child's endeavors, he may considered adding interior detailing to set himself apart from his competition.
Preparation
It is imperative that child entrepreneurs--like all business owners--are prepared and well organized before opening the grand opening. Your child should have her business plan in place and acquire all required materials, supplies and equipment that she'll need to properly function. She should also take into account the amount of time she'll need to operate efficiently without sacrificing study hours and after-school activities. Tending to customers without the sufficient supplies and materials can lead to inferior products and poor customer service that can damage her professional reputation. Efficient time management can prevent her business responsibilities from interfering with school activities and homework.
Advertise
Even the most efficiently planned out business endeavors can fail due to lack of marketing and advertisement. Just because children have little or no advertising budgets to work with, doesn't mean they can't get the word out to attract customers. Help your child execute a number of free or cost-effective advertising techniques to help generate business. He can create home made fliers to distribute outside of malls, churches, grocery stores and deliver door-to-door. He can also use social networking sites like Facebook, MySpace and Twitter for completely free Internet advertising.