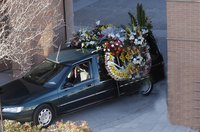 Morticians, or funeral directors, must have expertise in three distinct areas: comforting the friends and family of the deceased, taking care of the business and scheduling aspects of the funeral, and, usually, embalming and preparing the body for the viewing and burial. While much of these skills are learned through experience, most states require morticians to have at least two years of specialized education, which can be achieved through a college program in mortuary science.
Available Degrees
The American Board of Funeral Service Education accredits 60 college programs in mortuary science, most of which are two-year associate's degree programs offered at community colleges, according to the U.S. Department of Labor's Bureau of Labor Statistics. However, six colleges and universities offer four-year programs that culminate in bachelor's degrees.
Science Courses
Morticians must have some of the same foundations in anatomy as medical doctors, and they must be able to deal with the public health aspects of the preparation for burial. To prepare them, mortuary science programs require several science courses, including micro-biology, anatomy, physiology and pathology. Students might also study psychology to understand the grieving process of their clients.
Embalming
Mortuary science degrees also will require students take several lab and lecture courses in embalming. These courses introduce students to the history and the ethics of the practice of embalming, the physical and chemical changes that take place in the human body after death and the practical aspects of embalming. Students will learn about the chemicals and tools used during the embalming process and the methods of cleaning and disinfecting the body, injecting it with the proper chemicals and draining it of fluids.
Other Courses
At least 25 percent of an accredited funeral science program's coursework must be in general, non-technical courses, according to the American Board of Funeral Service Education. This requirement means that a required course load for a funeral science degree will include classes typical of many other college degrees, including courses in ethics, history, law, grief counseling, oral and written communication and business and accounting.