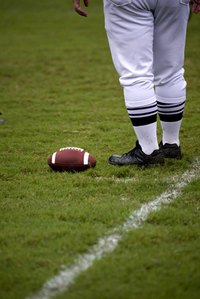 Although the South Eastern Conference is best known for producing powerhouse football teams that perennially climb into the NCAA's Top 10, the conference isn't a one-sport wonder. The SEC fields competitive teams in all three major college sports, and its football, men's basketball and baseball coaches are paid on par with their teams' traditions of performance.
Football Salaries
Of the 10 highest-paid football coaches in the NCAA in 2010, three played in the SEC. Alabama's Nick Saban earned $5,997,349 for the 2010 season, making him the best-compensated college football coach in the nation, according to USA Today. Urban Meyer of Florida earned $4,010,00, making him the fourth-highest-earning college football coach, and Georgia's Mark Richt was No. 10 on the list, with an annual salary of $2,937,740. Because of the SEC's ties to the Bowl Championship Series (BCS) and the high payoffs those bowl games bring to universities and conferences, football coaches' salaries tend to be higher than those of other sports.
Comparison to National Average Head Coach Salary
Almost all of the SEC's head football coaches earned annual salaries above the national average for their position. In 2010, the average annual salary for an NCAA Division I football coach was $1.36 million, according to the Sporting News. Only one coach, Mississippi State's Dan Mullen, earned below that, with an annual salary of $1.2 million. Four of the SEC's coaches earned at least two times that salary in the 2010 season.
Men's Basketball Salaries
Five of the SEC's schools paid their men's basketball coaches more than $1 million per season as of 2008: Florida, Kentucky, Tennessee, Louisiana State University and Alabama's coaches all earn seven-figure incomes, according to the Knoxville News Sentinel. The lowest-paid coaches in the conference earn $750,000 each year. As the lone private university in the conference, Vanderbilt isn't required to disclose the salaries for its coaching staff.
Baseball Salaries
Although college baseball doesn't draw the television audiences like football and basketball do – and therefore has a much smaller revenue stream – SEC baseball coaches still routinely earn six-figure incomes. Louisiana State's Paul Maineiri is the league's highest-paid coach as of 2010, and receives $625,000 annually, although $375,000 of that is income generated from broadcast revenues, endorsements and booster club payments, according to the Birmingham News. Mississippi's Mike Bianco earns $580,000 annually, with boosters providing $420,000 of that sizable tab. Alabama's Mitch Gaspard, the coach with the smallest earnings in the SEC, receives $225,000 annually for his skills.