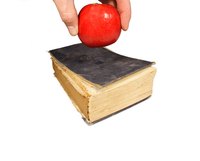 Whether it is math, science, writing, foreign language, physical fitness, cooking or art, teachers are the bridge between students and entirely new worlds. Teachers train for their careers through advanced secondary education, licensing and student teaching experiences, along with preparation in their specific area of instruction. For Indiana's teachers, salary levels fall far below the national average for the profession.
Kindergarten
Indiana's 2,360 kindergarten teachers--according to a May 2009 U.S. Department of Labor Bureau of Labor Statistics survey--earned an average median wage of approximately $45,440 per year. This figure is $4,940 below the country's median average for kindergarten teachers, $50,380. Some of Indiana's kindergarten teachers earned at the high end of the scale, averaging $65,890 per year. At the other end of the scale were teachers paid at the 10th percentile, earning $30,700 per year.
Elementary
For Indiana's approximately 31,030 elementary school teachers, the state's median salary of $47,230 didn't match up with the rest of the country. The national median, at $53,150, was $5,920 higher than Indiana's. Indiana's scale of salaries ranged from the bottom earners at $26,340 per year to the highest earners at $67,170 per year.
Middle School
Salaries for Indiana's 12,640 middle school teachers also fell below national averages. With the country's median at $53,550, Indiana salaries of $47,010 per year were significantly less, at $6,540 per year. Some of the middle school teachers in Indiana did earn considerably higher than the national average, at $66,810, balanced out by Indiana's lowest percentile of earners at $24,920 at the middle school level.
Secondary School
The 21,700 secondary school teachers in Indiana earned an average median wage of $45,780, far less than the country's $55,150 average for the field--a difference of $9,370 per year. While some secondary school teachers in the 90th percentile of earners averaged $67,590, the bottom level of earners took home just $22,440 per year.