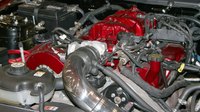 Automotive engineers are mechanical engineers who plan, design, develop and improve engines, transmissions and other equipment in motor vehicles. The U.S. Bureau of Labor Statistics (BLS) predicts slow employment growth for all mechanical engineers through at least 2018, but adds that continued product improvement efforts will still create new jobs. Automotive engineer salaries have a very wide range.
Job Features
Automotive engineers develop new designs or modify current equipment to create better value, performance, adherence to environmental regulations, safety and customer satisfaction. The engineers also direct testing of vehicles with new or improved components, and make changes if the components are not reaching targeted goals. Some automotive engineers conduct research to develop new concepts in the field.
Salary by Experience
A bachelor of science in mechanical engineering or a related engineering field is generally required for an automotive engineering position. The median range of starting salaries is about $45,000 to $73,000 per year as of December 2010, as listed by the PayScale salary survey website. Median salary range is the middle 50 percent, at which 25 percent of workers earn less and 25 percent earn more. Salaries generally do not increase much until the engineer has 10 or more years of experience, when the median range increases to $69,000 to $92,000. Automotive engineers with 20 or more years of experience were earning in the median range of $88,000 to $121,000 in 2010.
Salary Range
The median salary range for all automotive engineers in December 2010 was about $52,200 to $82,700, reports PayScale. Some also receive a yearly bonus of $950 to $5,000 and a similar amount in profit sharing. In comparison, average salary for all mechanical engineers in 2009 was about $80,600, including bonuses and profit sharing, notes the BLS. In the United States, automotive engineer jobs are heavily concentrated in the Detroit, Michigan, area, which is also where they receive the highest salaries. PayScale shows the salary range for all automotive engineers working at Ford Motor Company and General Motors Corporation at $60,000 to $120,000 in 2010. A total of 96 percent of automotive engineers are men.
Benefits and Schedule
Most automotive engineers work full-time and receive medical and dental insurance, paid vacations and holidays, and a 401(k) or other company-matched savings plan. They usually have a 40-hour weekly work schedule during regular business hours, although some must occasionally work overtime to meet product-release deadlines.