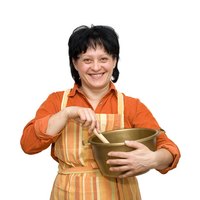 It would be difficult to determine the pay rate for a job that requires decorating skills, more than a cursory knowledge of nutrition and food preparation, an in-depth knowledge of child development, and money management skills. Add cleaning and transportation services, and you'll have a job description approximating that of the average homemaker. Homemakers are not paid a salary, but if they were, it would likely be in the six figures.
Benefits
Some homemakers are provided benefits, such as medical, dental and life insurance, while others aren't. Whether or not a homemaker receives these benefits typically depends on the financial standing of the family, or what is offered through the job of the spouse who works outside the home. While many workers in the United States receive two or more weeks of vacation per year, many homemakers forfeit this perk. Even when the family goes on vacation, the homemaker continues to ensure that children are cared for, clothes are clean, and other daily practical needs are met.
Savings
Homemakers are not offered a 401K plan -- without a paycheck, a salary deduction is impossible. Homemakers may find it difficult to save money, as many are provided cash on an as-needed basis. This can make it difficult for homemakers to save towards independent goals. Historically, homemakers saved "egg money," which was extra money earned by selling the extra eggs laid by the family's hens. Today, many homemakers do additional work to make enough money to set aside, or to take care of personal needs.
Supplemental Income
Homemakers in the United States make additional money to compensate for the lack of a salary in many ways. Homemakers may sharpen their expertise in a particular area, such as baking, sewing or photography, and sell related products outside of the home. With the advent of online storefronts, it's common for many homemakers to sell their wares without ever needing to leave the house. Other homemakers may negotiate with former brick-and-mortar employers to work part-time, from home.
Barter Economy
The barter economy is a reality for many homemakers. Rather than a set salary, many homemakers are paid in services, according to Shoshana Grossbard-Shechtman, in her essay "Marriage and the Economy," published by Cambridge University Press. An example of this is the homemaker who trades picking up the children during the day, in exchange for her partner picking up a few groceries after work. Or perhaps a homemaker will thoroughly clean the home, and be treated to a massage by his partner.