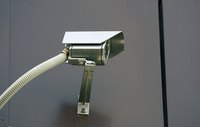 The type of business has a major impact on which types of security systems that business will need. Businesses such as retail outlets can benefit significantly from having a cash drop safe inaccessible to the staff, acting as a deterrent to robbery. Businesses storing valuable goods should invest in reinforced entry points, such as windows, as well as burglary alarm monitoring systems.
Basic Business Security Systems
Most businesses can make use of a simple after-hours access control security system. These systems use a security password panel in conjunction with motion detection devices to ensure that only authorized personnel access the facility when staff is not present. Higher-quality basic access control systems are linked to remote monitoring sensors that send either private security or police response teams in the event of an alarm signal.
Business Security Procedural Systems
Management and staff procedural training also plays a large role in the security of both employees and business assets. Procedural training may cover such things as proper use of a cash drop safe or the use of silent alarm systems like those commonly found in facilities like banks and casinos. Other avenues of procedural training may include things such as teaching employees not to allow people to tailgate behind them through secure checkpoints without being either challenged or reported to building security. Security procedures relating to after-hours escorts by building security for employees traveling to their vehicle can cut down on the chances of late-night violent crimes, particularly against women. These closing time escorts can be facilitated either by a building's local security force or by a mobile patrol security force. Companies with numerous cash drawers, such as supermarkets or building supply stores, can benefit from having a pneumatic canister-based cash safe that allows employees to make their cash drop without actually leaving their till, limiting the amount of time for problems to occur.
On-site Security Versus Remote Monitoring
A number of advantages exist to on-site security teams that not even the best remote monitoring security teams can equal. For instance, an on-site private security team can conduct foot patrols to inspect areas lying within the facility's cameras' blind spots. On-site security also offers a direct line of contact between facility management and employees during hours when standard management personnel are not available. Remote monitoring works well for smaller facilities as well as a backup system to support on-site teams; for example, a common tactic amongst thieves is to create a distraction for the on-site security and attack the facility through another avenue. An air monitoring system will recognize a door or window security breach if armed even while the on-duty guard is preoccupied with other matters.
Loss Prevention Tips
The unfortunate reality for businesses is that outside theft threats are often trumped by internal theft problems. Should management suspect any sort of internal theft scenario, hiring an independent private investigator to conduct covert video surveillance can be an invaluable tool to catching employee theft or other misconduct. To cut down on shoplifting, businesses can hire secret shopper loss prevention agents, who, depending on local legal precedents, can either identify or in some cases even detain shoplifters until police arrive.