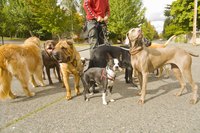 In the rat race of everyday life, you may not get as much time with your canine pal as you'd like, but as your schedule changes, his doesn't. He still needs to be walked and exercised as part of his healthy routine. When it comes time to snap leash to collar, if you're not available, a professional dog walker, for a fee, can step in to provide your best friend with a luxurious stroll.
Hitting The Streets
When it comes time for your dog to hit the streets under the watchful eye of a professional dog walker, you'll need to be prepared to open your wallet. While there is no set price for a professional dog walker, you should be prepared to pay anywhere from $10 to $30 per 30-minute walk, or more. Your particular dog walker may charge a "per walk," fee or may charge by the hour. Pricing scales can vary if you have multiple dogs looking to stretch their legs.
Your location will play a role in the cost of this service. If you live in a rural area, your dog walker may charge a travel or mileage fee, and if she'll be transporting your dog to walk in the safety of a park, you should expect to pay a higher price for this transport service.
Additional charges may be incurred for such add-ons as:
Feeding
Training
Doggy day care
Be particular when choose a dog walker. After all, you're placing your best friend in their care. Ask for references, read reviews if your dog walker has a website, and always enter into a written contract so you'll know exactly what you're paying for.