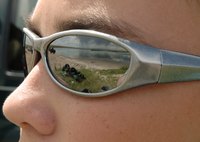 Orientation and mobility specialists give blind and visually impaired people the confidence to travel independently by teaching them skills and techniques to navigate without sight. As with any other job, the salary of orientation and mobility specialists varies by location. Most orientation and mobility specialists hold master's degrees.
Salary
Orientation and mobility specialists earn between $49,454 and $61,101 annually, according to the website Explore Health Careers. Education, location and experience are all factors that play into the salary of an orientation and mobility specialist.
Role
An orientation and mobility specialist helps people who are blind or visually impaired to navigate their environments independently. Additionally, these specialists help their clients to use assisting devices to understand where they are, map routes and interpret environmental cues. Orientation and mobility specialists may also work with governments and organizations to improve conditions for blind and visually impaired individuals.
Education
Most orientation and mobility programs require that specialists go through a master's degree program to become specialists. Although some extended learning programs for orientation and mobility exist, they are not recognized by the Academy for Certification of Vision Rehabilitation and Education Professionals, and therefore may not practice as certified specialists. Certification by the ACVREP is valid for five years and may be renewed through continuing education and other requirements put forth by employers.
Considerations
Those interested in helping the visually impaired may consider other assisting roles as well. According to Payscale, teachers of the visually impaired earn an average of $41,359 and $57,541 per year. Vocational rehabilitation counselors earn between $35,062. Vision therapists earn between $24,442 and $35,760 annually.