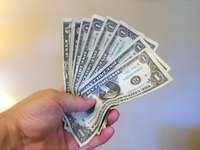 People need spendable cash to survive everyday life. Individuals usually earn a paycheck from an employer. However, workers may suddenly and unexpectedly lose a job, causing this significant source of cash to vanish. Some of those affected people may have a rainy-day savings account, 401k and other long-term financial assets, but those funds can become depleted, financially imprudent or impossible to access. If you are in dire financial straits due to a layoff, you can look into various benefits that may help you to sustain a basic standard of living, providing you with resources similar to immediate spendable cash -- liquidity.
Unemployment Benefits
Unemployed citizens might need quick access to spendable cash the most out of any of the benefits. You can apply for unemployment assistance through local and state agencies. Also called unemployment insurance, this program provides people a financial safety net for unexpected job losses. Without this immediate cash, then individuals and their families could suffer a deteriorating financial domino effect that could have their lives spiraling out of control. You must apply for this financial assistance and, after approval, you must check in periodically with the local unemployment agency or labor department to prove you are searching for a new job and to maintain eligibility for future benefits.
Food Stamps
Food stamps are another form of spendable cash that helps you continue to put food on the table. The amount of benefits awarded to you increases with the number of people in your household for which you are responsible for providing meals. Your eligibility for the program is also dependent on your liquid assets, such as the immediate cash in your checking and savings accounts. States are increasingly starting to issue this assistance on a debit card that is automatically loaded with funds every month. The application for food stamps is handled via your local Social Security office.
Housing Assistance
Getting financial assistance with housing varies by the type of dwelling. A person seeking month-to-month rental assistance may only need a few hundred dollars to make ends meet. A person who has a mortgage, however, may have monthly payments in the thousands of dollars. A renter faces eviction while a homeowner faces foreclosure, two completely different beasts. Nonetheless, mortgagees can find financial help through the U.S. Department of Housing and Urban Development, which is dedicated to staving off the tide of foreclosures nationwide. Renters and lessees on the local level can pursue assistance through city, county and state agencies that will help citizens temporarily meet their monthly obligations.
Health Insurance
Many health insurance plans are a part of employee wage and compensation packages. When people lose their jobs, those generous benefits go away too. These employee health plans are comprehensive in that they provide preventative and medical care, cradle to the grave. Many employee health plans also cover everyone in a household. As an unemployed person, however, you might consider breaking apart your health coverage based on your household's needs. If you have a child, many states have health plans that cover children. If you are an adult, you might make use of community health centers. If you are about to retire, you might have access to health plans for the elderly such as Medicare.
Re-Employment
Your last job may have required that you have a solid college education, or you may have participated in an internship or apprenticeship. Many students use scholarships, grants and loans to help them pay for tuition and other higher-education expenses. Though these financial benefits are not immediate spendable cash like that offered through unemployment insurance and food stamps, it is nonetheless a resource that you can help you pay for re-schooling. Your new knowledge and skill set can help you reenter the job market and become gainfully employed -- which is the end game as far as getting off unemployment. You can apply for these benefits through college and vocational schools, local, state an federal agencies.