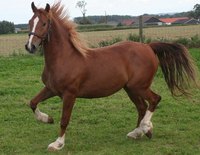 According to websites of several equine massage therapy programs, there are no official, state or federally approved certifications for equine massage therapists as of 2011. The certification offered by equine massage therapy programs only demonstrates that the therapist has completed a program of course work at a specific place. However, earning certification from a recognized program may inspire confidence in horse owners considering hiring a massage therapist. There are several programs available.
The Art of Equine Massage Therapy - Prairie Winds
The curriculum of Prairie Winds' The Art of Equine Massage Therapy school includes the art of Shiatsu massage; equine movement, alignment, balance and rhythm; biomechanics of equine movement; anatomy, form and function; reading the horse; communication tools and concepts; hoof care; and pathology and physiology from a veterinarian's perspective. The school offers a five-day course and a six-week course. Most courses take place at the school's facility in Wellington, Colorado.
Equissage
Equissage in Round Hill, Virginia, offers a five-day certification course that covers sports massage in humans; equine muscle anatomy and physiology; study of the equine muscle system, including problems that can arise; and a section on creating a business as an equine therapist. There also are other courses and seminars in the curriculum, including one that trains a therapist to massage canines as well as horses.
Equitouch
Equitouch in Loveland, Colorado, offers home courses as well as courses in Colorado and a few in Wyoming. The program begins with a prerequisite equine anatomy home course followed by a course on equine deep-tissue massage involving equine anatomy and physiology. The program also looks into causes and solutions to lameness. This course provides a 150-hour certification award.
Wilson Meagher Sports Therapy Program
The Wilson Meagher Sports Therapy Program runs three days and includes two classroom days and one clinic day in the barn working with horses. The course covers anatomy and physiology; body mechanics; techniques; and strengthening and conditioning. The organization's professional certification program is held at its headquarters in Concord, Massachusetts.