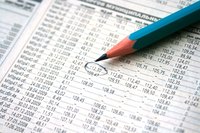 There are two types of fixed income, or bond, funds. First, there are bond exchange traded funds, or ETFs. These are passively managed portfolios designed to replicate a bond index. Second, there are bond mutual funds. These are either passively, but more often actively, managed portfolios designed to meet an investment goal, such as high income or low interest rate risk. For the average investor, these funds offer many advantages and few disadvantages over buying bonds individually.
Trading Commissions and Diversification
Online deep discount brokers such as etrade, scottrade and fidelity charge trading fees of approximately $10 per stock or bond trade, but to properly diversify across an asset class, you must own at least 20 base assets -- stocks or bonds -- to minimize risk. So, creating a diversified bond portfolio could easily cost $200. The advantage bond ETFs offer is the diversification can be accomplished with one $10 trade instead of 20 trades. Bond mutual funds often even offer zero cost trades to enter the fund.
Liquidity
Bond funds can offer a tremendous liquidity advantage over illiquid bonds in the market. For example, the bid ask spread, the difference between the lowest price a seller is willing to sell at and the highest price a buyer is willing to buy at, for LQD, an investment grade corporate bond ETF, can often be less than 10 cents during market hours. In contrast, many of the underlying bonds that the fund owns are traded infrequently and often have bid ask spreads of $50 per $1,000 bond. So, an investor who wanted to sell his assets quickly might have to take a significant loss if selling 20 bonds versus selling the bond ETF. Mutual funds will allow redemption at NAV, or net asset value, at the end of every business day, so the bid ask spread would equal zero. Additionally, according to the NYSE, there are more than 700 ETFs, which allows investors ample liquidity across asset classes.
Options and Leverage
Bond ETFs often have options trading based on the ETF. So if someone wanted to make a huge bet that bond prices were going to go down, one could easily obtain high leverage by buying put options on the fund. Bond mutual funds do not offer this feature, but both bond ETFs and bond mutual funds offer access to leveraged and inverse funds. Leveraged funds have returns which behave in a more volatile, risky way than the base asset. Inverse funds have returns which are opposite to the performance of the base funds.
NAV Premiums and Discounts
Bond ETFs have something called tracking error, which means that at times the net asset value, or NAV of the portfolio will differ slightly from its traded market value. Often this presents an opportunity for arbitrage when bond ETFs are selling for a discount to NAV or a premium to NAV. An investor who buys an ETF at a discount is actually buying the assets for cheaper than they can be liquidated for. Bond mutual funds do not have tracking risk/error and are always redeemed at NAV.
Management Fees
A disadvantage of both bond ETFs and bond mutual funds is that the funds charge investors a management fee to have access to the funds. The funds use this money to pay the funds' employees to perform tasks such as rebalancing the portfolio underlying the fund. The fund must be periodically rebalanced to make sure it continues to replicate the index it has been designed to follow or outperform. Mutual funds also charge higher expenses beyond the basic management fee, which generally are used to compensate the funds' financial advisers.
Monthly Income and Reinvestment
Bond funds have an advantage compared to owning individual bonds in that the funds pay a professionally managed, steady, monthly income, while individual bonds normally pay in increments of every six months. For retired people, this can be a very handy feature. Additionally, through the use of DRIPS, or dividend reinvestment plans, investors can compound their returns by reinvesting all of their dividends into the funds, which to some extent reduces reinvestment risk. All Individual bonds have reinvestment risk unless they are zero coupon bonds.