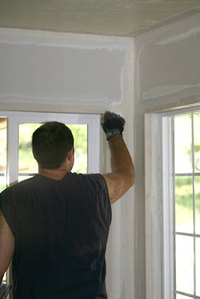 Gypsum board, also called drywall, plasterboard and wallboard, is used extensively in construction projects. The material makes a durable, strong, fire-resistant and high-quality covering for ceilings, walls and partitions. Gypsum board is easily available, simple to install, repair or decorate and is comparatively inexpensive. Boards are available in various types, lengths, edge configuration ratios and thicknesses based on their intended use.
Regular Gypsum Board
Regular gypsum board is typically made of an inner core of gypsum that is encased in paper. It is used as a covering material for ceilings and walls and can be directly attached to existing surfaces or frames with adhesives, nails or screws. The strong laminating paper encasing the board can accommodate virtually any type of decorative treatment (paint, polish or varnish).
Water-Resistant Gypsum Board
Water resistant gypsum board is commonly used as a backer for tiles. The gypsum core of the board is typically treated with a wax-like or silicone chemical substance. According to Gerald E. Sherwood and Robert C. Stroh in the book "Wood Frame House Construction," water-resistant boards can be used in high-moisture areas such as kitchens and bathrooms. They can also be used as a base for wall panels and tiles in shower enclosures and tubs. According to the California Building Code, water-resistant gypsum board should not be used on soffits or ceilings.
Fire-Rated Board
While gypsum is a natural fire retardant, fire-rated gypsum boards provide additional protection against fire. A fire-rated board is typically reinforced with a glass fiber core that allows it to hold up longer when exposed to fire. Fire-rated gypsum boards are also referred to as type "X" drywall. Type "C" drywall is a subcategory of type X drywall with greater glass fiber reinforcement. It offers more fire resistance than a type X board. Fire-rated gypsum boards are installed around fireplaces, wood stoves, furnaces and on the exterior and interior walls of utility rooms.
Sound-Deadening Board
Sound-deadening gypsum boards are commonly used between separate living units of a multifamily home or dwelling. These boards offer good sound transmission control. Sound-deadening boards are made of two moisture- and mold-resistant gypsum panels laminated together using a polymer. They can be directly attached to existing surfaces, metal and wood frames using adhesive, nails or screws. Sound deadening boards must not be used in areas of continuous or extreme moisture or heat.