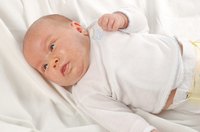 Certified nurse midwives provide primary care to women who are pregnant, and to the babies they give birth to, says the American College of Nursing Midwives. Certified nurse midwives are credited with increasing the quality of women's care during pregnancy and their safety during birth. Nurse midwives' annual salaries are increased by yearly bonuses and profit sharing.
National Annual Salary
As of December 2010, certified nurse midwives are earning between $70,000 and $88,000 per year on average, according to the wage statistics on PayScale. These incomes are made up of an hourly salary plus bonuses and profit sharing. Nurse midwives have reported earning as much as $8,000 a year in bonuses, and another $10,000 in profit sharing a year.
National Hourly Pay
As of December 2010, the hourly pay for nurse midwives ranges between $14 and $45 an hour, according to PayScale. The huge gap in pay is due in part to a nurse's experience in her career. A new midwife can make between $14 and $29 an hour, while a nurse with 20 or more years behind her can command between $36 and $45 an hour.
Nurse Midwife Statistics
As of December 2010, 98 percent of certified nurse midwives are female, according to PayScale. Of the nurse midwives contributing to PayScale's national information, 77 percent report receiving medical insurance, 55 percent say they receive dental insurance and 36 percent say they receive vision insurance. Only 21 percent say they don't get any type of insurance.
Job Prospects
Registered nurses held over 2.5 million jobs in 2008, says the U.S. Bureau of Labor Statistics. They make up the largest workforce in the health care industry. The BLS predicts a good future for the nursing field in general, and an "excellent" one for certified nurse midwives, whose skills are expected to be in great demand in rural and underprivileged areas in particular.