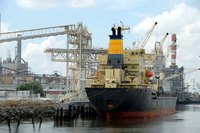 International business executives have used letters of credit for years to deal with international transactions. The issues of distance, varying import laws and procedures and problems with communication make international negotiations more complicated. Oftentimes, the buyers and sellers do not know each other and have not had the time to develop a working relationship based on some degree of trust. A letter of credit helps solve these problems.
Definition
In international transactions, buyers and sellers can agree on prices and terms, but the buyer needs assurance that he is going to receive his products, and the seller wants a guarantee that he is going to receive his money. A letter of credit solves both of these problems by inserting the international banking system into the process. To start the process, the buyer instructs his bank to open a letter of credit in favor of the seller, the beneficiary. This inserts the credit standing of the bank in the place of the buyer. The issuing bank sends the letter of credit to a bank, the negotiating bank, in the seller's country. The negotiating bank could add its confirmation, or guarantee, to the letter of credit if the seller requested it.
Negotiation
After the seller ships the merchandise, his freight forwarder prepares any requested documentation per the letter of credit and presents these documents to the negotiating bank. If the negotiating bank determines that the documents are correct, they will accept the documents for payment and forward them to the opening bank of the letter of credit.
Payment
The payment through the letter of credit will provide for payment at sight or deferred for a period between 30 and 180 days from the date of acceptance. The exporter now has a choice. He can either hold the accepted draft for the stated time period and then present the draft to the bank for payment, or he can request that the bank discount the draft immediately and pay him the net proceeds. There is an active market for discounting accepted drafts, and the interest rates are typically very attractive because they carry a bank guarantee of payment. If an exporter agrees to accept a deferred payment letter of credit, he will have to consider the interest cost of discounting the accepted draft into the pricing of his products.
Advantages
A deferred payment letter of credit has several advantages. It provides the buyer with a means of financing his imports at a very attractive interest rate. This rate would typically be lower than the rate the importer would be charged if he went to his local bank to borrow the money to finance his purchase and inventory. The exporter gains a competitive advantage by agreeing to accept a deferred payment letter of credit. In essence, he is agreeing to provide financing terms to the buyer, but at a relatively low cost to either party.