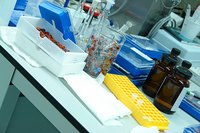 Forensic scientists use scientific knowledge and methods to resolve legal issues, both civil and criminal. Often associated with crime scene investigation, forensic scientists collect and analyze physical evidence, conduct tests, write reports and provide expert testimony in court. Through their work, forensic scientists help police, lawyers and juries understand the scientific elements in a variety of legal matters. If this field sounds interesting, you are in luck because the U.S. Bureau of Labor Statistics projects healthy growth in forensic science-related jobs.
Projected Job Growth
A wide range of forensic science specialties exist, from firearms and toolmark examiners to biologists and chemists. The Bureau of Labor Statistics collects employment and earnings data on forensic science technician, a job title the bureau says encompasses many specialties. In 2008, the bureau projected that job opportunities for forensic science technicians would increase 20 percent by the year 2018, a rate the bureau described as faster than the average for other occupations.
Factors
The BLS suggested that much of the growth in forensic science technician jobs would be in state and local government agencies, such as law enforcement organizations. The bureau identified the increased use of DNA analysis and other scientific techniques to solve crimes as a key factor driving the growth in forensic science jobs in state and local agencies.
Earnings Potential
Aspiring forensic scientists can not only expect growing job opportunities, but growth in their potential earnings as well. BLS reported in 2008 that forensic science technicians earned a median hourly wage of $23.97, which translates to $49,857 a year, based on a 40-hour work week and 52 weeks in a year. In 2009, BLS reported that the hourly wage had risen to $26.47 or $55,070 a year.
Warning
Although job opportunities in forensic science are expected to increase, the BLS warns that there will be tremendous competition for jobs because of the popularity of forensics as a career. Aspiring forensic scientists should begin preparing for a career while in college. Entering this field requires at least a bachelor's degree with a science major, such as forensic science, biology or chemistry. The American Academy of Forensic Sciences advises ensuring that a degree includes at least 24 semester hours in chemistry or biology and states that the content of a degree is more important than the actual title. AAFS adds that some forensic science jobs may require a master's degree.