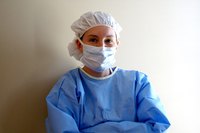 A pediatric nurse is a qualified nursing professional who specializes in the care of babies, infants and adolescents. Many pediatric nurses have studied for a master's degree to work in this specific medical sector and work under a pediatric physician or surgeon. Her salary reflects her level of training but can vary according to a number of factors.
Average Salary
PayScale.com, in its survey of pediatric nursing salaries in December 2010, found the yearly median wage to be between $40,232 and $62,775. This equates to an average hourly rate of between $19.60 and $29.39.
Salary by Years Experience
The December 2010 survey of pediatric nurse salaries in the United States found that as individuals gain more experience in the field, the range of potential salary increases. For those newly-qualified the annual salary rate was $39,012 to $50,868. The range rose to between $36,625 and $59,506 for those who had been in the profession for between one and four years, while the average for pediatric nurses who had accrued five to nine years was listed at $30,000 to $67,775.
Salary by Employer Type
PayScale.com surveyed three different sectors of the medical profession in which pediatric nurses are employed — hospitals, private practices and private companies. Hospitals had an average annual salary of $39,101 to $58,562, private pediatrician practices offered between $23,583 and $76,302, and companies had a range of $29,479 to $67,000.
Salary by Location
The location in which a pediatric nurse pursues her profession will be a significant factor in determining her income level. PayScale.com, in December 2010, found that of the states whose wages they tabulated, California offered the highest top level salary, at $94,333, followed by Georgia at $70,000.