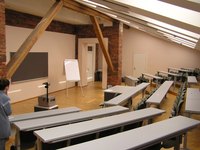 The Florida Department of Education (DOE) offers two types of teacher certification: temporary and professional certification. Temporary certification is non-renewable and is issued once an individual receives an offer of employment for a Florida public or non-public school and has successfully cleared fingerprint testing. Temporary certificate holders can then work toward professional certification, Florida's highest educator certification.
In Florida, Temporary Teacher Certification is non-renewable and is valid for three years. The certification allows individuals to teach full-time while working to complete the requirements for professional certification. To receive temporary certification, individuals must complete DOE application requirements, have a minimum of a bachelor's degree and demonstrate subject-area knowledge mastery or have a 2.5 grade point average (GPA) in a specific subject specialization area.
Application Process
Candidates for temporary certification in Florida must complete the Department of Education CG-10 application form online or via hard copy. Candidates must also submit the appropriate processing fee. This fee is dependent on the number of subjects applied for on the CG-10 application. Candidates must also include copies of official academic transcripts and any out-of-state teaching certificates with their application.
Official Statement of Eligibility Status
The Florida Department of Education evaluates all applications regarding eligibility for teaching certification. Candidates receive the official decision in the form of an Official Statement of Status of Eligibility. This statement provides evidence regarding a candidate's eligibility to receive temporary certification to teach in a subject area and provides a detailed list of requirements needed for professional certification. Candidates have until the expiry date of their temporary certification to meet the needs for full professional certification.
Employment
Once an individual has received his Official Statement of Eligibility Status he can pursue employment with the Florida school system. Individuals can work in public schools, charter public schools and non-public schools. The Florida Department of Education provides a one-stop employment portal for teachers looking for employment in the state public school system. The DOE issues temporary certification once an individual has confirmed employment and passed fingerprint screening.