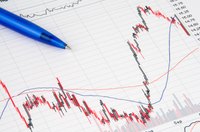 A financial report is often also referred to as an annual report. The financial report presents the financial data of the given business in an honest and effective manner. This type of information is important for both investors and company executives, as the financial data can provide answers and solutions for budget and expense cuts.
Research
Financial reports are often written to cover a specific financial period. While some cover an entire year, other reports only cover a specific period, such as a quarterly report. A quarterly report only covers three months out of the entire year. It is important that you clarify how long a period the financial report covers, as the financial information you use in the report only needs to apply to this period. For example, if the financial report only covers January to March, you cannot use information from December or April. Any information that does not fall into the chosen period can severely affect and tamper the true results of the financial report.
Sections
A financial report consists of four major sections. Two of the sections deal with the company's worth in terms of how much the business owns and owes others. For example, the first section deals with the company's assets and illustrates what the company owns in terms of property and cash value. The other section deals with the company's liabilities like banking loans and unpaid taxes. The two other sections focus on how much the company is spending on a monthly basis in terms of expenses and how much the business is earning in sales and investments.
Features
A financial report often contains many numbers, since the detailed information often entails things such as office supplies for employees and telephone bills for each employee with a cell phone. Due to this, financial reports will often use well-structured charts and colorful graphs to show the results or spending habits of each employee or the collective numbers for each expense. These reports will often be several pages long, so an index page will often be used to organize the material.
Uses
Financial reports are often used to improve the upcoming budget and learn from mistakes. For example, if one month has large amounts of business dinners, an executive may make the decision to cut this expense down to a set value, so employees are not spending the company's money on unnecessary dinners. Investors and lenders also use the financial report to determine how the company is doing overall and to determine whether the investments should continue.