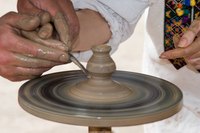 Many Americans grow up to become accomplished visual artists. A great way to continue a career in this field is to become a high school art teacher. Art instructors teach students how to paint, draw, sculpt and work with other physical art mediaas well as do computer or graphic art. Art teachers have a multitude of options when it comes to deciding the kind of art education position they desire, and a wide range of salaries depending on several factors.
Qualifications
The majority of high school art teachers in the United States are employed by public school systems. For these educators, a bachelor's degree in art or a related field will be necessary to obtain a job as will a state-level teaching certificate, which is granted pending the completion of an exam. Others who have a bachelor's degree in a non-art-related subject and want to teach art can enroll in an emergency certification program in some states. Many private schools in the country do not require state certification but prefer a certified candidate over others.
Location
A school district with a wealthier student enrollment will likely pay its art teachers a higher salary. The cost of living in the surrounding neighborhood, city or state may also have a drastic influence on teacher salaries in general. For example, a high school art teacher in the Tornillo Independent School District of El Paso, Texas, had an average salary of $41,995 a year in 2007. However, a high school art teacher in the Davis Joint Unified School District in California earned $60,216 annually in 2004. The national average salary for high school teachers in general ranged from $35,898 to $53,084 in 2010, according to Payscale.
Experience and Position
As with most professions, the more experience a high school art teacher has, the higher the salary he may earn. A new teacher at a high school averaged between $30,383 and $41,709 in 2010, but a teacher with 20 years or more of classroom experience will average from $47,738 to $71,138, per Payscale. Moreover, some high schools have multiple art teachers on staff, and the head of the art department will likely receive a stipend or higher salary than the other art teachers.
Type of Institution
Public schools and private schools may have different salaries for art teachers. Most private school teachers in general are paid less, averaging $29,844 to $45,355 versus $36,075 to $53,344 in public schools in 2010, according to Payscale. Often a private school position is preferred despite the lower salary because of smaller classroom size and more control over curriculum. The highest salaries in high school art education are typically at arts academies and high schools tailored to artistic students. A high school art teacher at the Idyllwild Arts Foundation in California was paid $83,200 a year in 2006, per Salarylist.com.