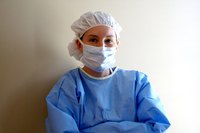 Nursing is an in-demand profession, and even registered nurses (RNs) who are just starting out can earn an attractive salary. According to the Bureau of Labor Statistics, nursing is expected to grow much faster than average, producing a greater number of new jobs than most other professions. Demand for nurses is greater in some geographic areas and in some employment settings than others, but with widespread shortages, rest assured that there'll be work available for nursing grads.
General Averages
According to the Bureau of Labor Statistics, even nurses in the bottom ten percent in terms of pay earned $21.14 per hour in 2009, equivalent to a yearly salary of $43,970. Recent graduates securing their first jobs can expect to earn around this amount. According to PayScale, RNs with less than one year of experience make between $19.59 and $25.12 hourly, and pay gradually increases with experience.
The Best-Paid Positions
Although you shouldn't decide your nursing specialty based on salary alone, knowing which workplaces pay the most can factor into your future plans. For nurses engaged in clinical practice, general medical and surgical hospitals promise the highest wages, paying a mean hourly wage of $32.57, or $67,740. Nursing care and home health care services pay the least, offering mean wages of $28.52 and $30.43 respectively. In general, all clinical care positions pay an average of $59,000 to $68,000 per year. Nurses who work for medical equipment manufacturing companies, civic, social or political organizations and medical publishers can command even higher yearly salaries--in the low- to mid-$70,000 range. However, keep in mind that these positions, even at entry level, generally require a few years of practical nursing experience. Expect to start low on the totem pole in a clinical capacity. Later in your career, you can move into business, management and administration positions with higher salaries.
The Best-Paying States
Although you should consider cost of living when looking at entry-level salary offers, know that some geographic areas pay nurses considerably more on average. California and Massachusetts are among the highest paying states, offering nurses $40.90 and $39.32 per hour respectively, on average. In comparison, South Dakota and Mississippi only offer $25.73 and $27.70 per hour on average. Other top-paying states include Hawaii, Maryland and New Jersey.
Expected Changes
Although hospitals currently pay the most, projected shortages in other areas may increase the wages offered in the future. According to the Bureau of Labor Statistics, the highest projected growth rate (48 percent) for RNs is in physicians' offices, while public and private hospitals only expect 17 percent growth. Because America's population is aging, more jobs will open up with nursing homes, long-term care facilities, and home health-care service providers.