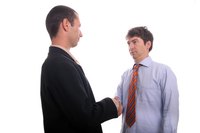 An open listing is a real estate listing where the seller agrees to pay the broker a commission if that broker brings a buyer that purchases the property. Under an open listing, the seller is open to sell the property or not to sell the property, and the seller is open to work with as many or as few brokers as they wish. Although residential real estate is typically marketed through exclusive listings, open listings remain common in the world of commercial investment real estate.
Broker Benefits of Open Listings
For a broker, an open listing is better than nothing, because it can provide some protection that they will get paid if the seller chooses to sell the property to one of these buyers. Open listings typically require little work on a broker's part, making them an excellent way to work with a seller with a property that may not be sellable in a given market.
Seller Benefits of Open Listings
Sellers like open listings because it keeps their options open. With an exclusive listing, the seller is tied to the broker for a long period, and typically agrees to sell their property, or at least to pay the fee, if the broker procures a buyer at the listing price. Under an open listing, the seller can work with whoever he wants, whenever he wants, and stop working with anyone at any time.
Buyer Benefits of Open Listings
In many ways, the biggest winner with an open listing is the buyer. Because the broker only gets paid if the property closes, the process gives incentive for them to help the buyer more than the seller, since the buyer is typically in control of whether the property sells, once a contact is negotiated. In addition, because open listings dissuade brokers from launching complicated and expensive marketing campaigns, competition for properties subject to open listings tends to be subdued, leading to lower selling prices. Finally, because of the limited exposure given open-listed-properties, buyers in the "old boy's network" of usual buyers benefit because they are usually the only ones to see these listings.
Exclusive Listings
The primary other type of agency relationship is the exclusive listing. In an exclusive listing, a seller agrees to allow one broker control of the property's marketing for a set period of time. Because that broker is assured of a commission if the property sells during their listing, regardless of who brings a buyer, the broker will typically launch a broader marketing campaign, hopefully generating a higher selling price. If the seller chooses a suboptimal broker, though, the seller could end up tied down and unable to sell the property. An open listing protects against this eventuality.