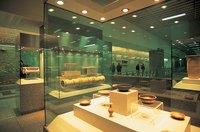 When ticket sales are not enough to cover expenses, history museums can apply for general museum grants, as well as grants created just for their specific field. These grants come from different sources like state governments, federally funded agencies and non-profits.
African American History and Culture Grant
The African American History and Culture grant program provides funds to museums that focus on African-American History. The award comes from the Institute of Museum and Library Services, which receives funding from the federal government. The grants awarded range from $5,000 to $150,000. Any grant requests of more than $25,000 must have matching funds in place. The grant recipient can use the money for any museum project. The application deadline is in December each year. The IMLS releases grant information 60 to 90 days prior to the due date. Interested museums apply through the grants.gov website.
New Jersey Historical Commission Grants
The New Jersey Historical Commission awards support, project and minigrants each year to historical museums, organizations and sites that relate to the history of New Jersey. A support grant awards $5,000 and up and must be used for general operating costs. The project award provides between $3,000 and $15,000 and goes toward specific historical projects. Minigrants contribute up to $3,000 in funding and also go toward specific historical projects. Applicants must first file a declaration of intent through the New Jersey Historical Commission website. If approved, they must then submit a formal application. The deadline for support grants generally falls in April of each year, while the project and minigrants deadlines come in September.
Oregon Museum Grant
The Oregon Heritage Commission offers the Oregon Museum Grant. Money goes to museums for projects that relate to the Oregon heritage collections, heritage-related tourism or heritage education and interpretation. All applications must go through the Oregon Parks and Recreation Department's online program. They're typically due at the end of April each year. The program awards grants of $1,000 to $8,000. Eligible museums must be a public or private non-profit located in Oregon. They must be open at least 120 hours a year and have an attendant on duty during all open hours.
Ohio History Connection Fund
The Ohio History Connection's History Fund provides funding in three categories to Ohio history museums. Organizational development grants offer $1,000 to $4,000 for needs like staff training. The programs and collections grants of $2,000 to $20,000 go to museum projects that pertain to Ohio history. The third grant category, bricks and mortar, provides the same range of money for new construction, rehabilitation and restoration. Each grant requires the applicant to have matching funds in place. Applicants fill out and submit the application through the Ohio History Connection website. Applications are due in September each year, with the exact due date announced in early summer.