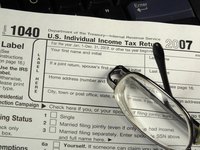 Filing your federal tax return is rarely an easy or pleasant task, despite its annual necessity. Determining your filing status is also rarely straightforward, though figuring out if you may file as head of household is easier than most. Three major qualifications must be met if you are to file for head of household legitimately.
Single
To file for head of household, you must be single or considered unmarried by the IRS on the last day of the tax year. If you are technically still married, but your spouse is filing a separate tax return and did not live with you the last half of the year, the IRS deems you as "considered unmarried." It is important to note that even if your girlfriend or boyfriend lived with you the entire year, you are also "considered unmarried" no matter how long you two have been together, according to federal law (though state laws vary).
Majority of Cost
In addition to being single or unmarried, you must have shouldered a majority (more than 50 percent) of the household expenses during the tax year. Household expenses include mortgage or rent, utilities, property taxes, home maintenance, groceries (as long as they were consumed at home), homeowner's or rental insurance and other such common household expenditures. Clothing, educational costs, transportation expenses and other similar expenditures do not factor into household expenses for this purpose.
Dependents
The final requirement to file for head of household is the care of qualifying persons in the home. The qualifying persons must be related to you, lived in the home a majority of the year (over six months of the calendar year), and any children must be eligible for an exemption on your tax return. Relatives include parents, children (biological, step-, foster or adoptive), siblings and blood-related aunts or uncles. They must have provided less than half of their own financial support. Qualifying children must be younger than 24 if a full-time student, or 19 if otherwise employed and eligible for dependent status on your tax return. A disabled relative living with you always qualifies. Exceptions do exist -- refer to the IRS Publication 501 for clarification pursuant to your specific situation.
Benefits
Filing for head of household is desirable since your standard deduction is higher than if you are otherwise filing as married filing separately or single. This saves you on your tax bill and may help generate a return instead of amount owed. Filing for head of household can be performed on both IRS Form 1040 and Form 1040A by confirming head of household on Line 4. The IRS provides a head of household tax table for your convenience with the 1040 and 1040A instruction booklets.