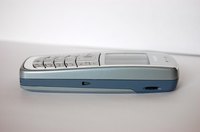 Many cell phones have data stored on a SIM card. This information can consist of phone numbers, addresses, email addresses and even credit card information. When a person is talking on his cell phone, the information on that card cannot be accessed from outside sources. Thieves can steal information in other ways, but it usually needs to be done with the help of the victim, usually through deceptive practices.
Cell Phone Cameras
Rumors spread on the Internet claiming thieves used cell phones to take pictures of credit cards in order to use the information. However, web myth buster Snopes.com investigated the claims and discovered no evidence to support them. Interestingly, the site found a fraud investigator who claimed in February 2005 he was able to take pictures of checks using his cell phone, and was also able to access the routing data and account number from 5 feet away. Snopes also pointed out that, with advances in cellphone camera technology, there might come a time when phone cameras can take a picture in order to steal information.
Wi-Fi
Cell phone information can be accessed if you use unprotected Wi-Fi access when making a call. If you enter personal information while using an unprotected Wi-Fi connection, the information has the potential to get hacked, compromising your personal information, including any credit card numbers you might enter. A way to prevent this unauthorized access is to install a virtual private network on your cell phone, allowing you to have secure access when using public wireless networks.
Smishing
"Smishing" takes place when a cell phone gets a text message supposedly from a bank or credit card company claiming that there is illegal use on the card. The text requests the person to provide credit card verification information, but the text message is originating from a thief. If there is ever any question as to the truthfulness of a text or call, the actual bank or credit card company should be immediately notified. Most companies never ask for that kind of information to be provided through email or the telephone.
Improving Technology
With improving technology, thieves can create cell phone stations fooling cell phones making outbound calls to send their signal to the false station. The calls can be monitored and recorded, making any personal and private information vulnerable. If someone is placing a call and gives out his credit card to the person on the other end of the line, the false station can pick that information up. For this reason, it is best to never provide credit card information over a cell phone connection.