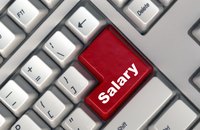 Engineering remains one of the most popular careers or fields of study in the world. Chemical engineers not only deal with chemical manufacturing, but also contribute to the energy, electronics, food, clothing, and healthcare industries. Approximately 31,700 chemical engineers were working in the United States in 2008. Recent graduates looking for a job will have several factors to consider when it comes to their starting salary as a chemical engineer.
Qualifications
At the basic level, you will need a bachelor's degree in chemical engineering. Many employers also require coursework in communications, math, physics, biology, computer science and the fine arts. Some may be able to obtain a chemical engineering job if they possess a mechanical or bio-engineering degree if the coursework relates closely enough to the job. Many companies also require a master's degree for jobs that will involve research or teaching. A recent graduate will most likely have no experience, but may have completed an internship that may justify a higher starting salary.
Location
Jobs in areas with a higher cost of living can sometimes pay a higher starting salary for a chemical engineer. However, with engineering in general, higher salaries are often in places where the engineer is in higher demand. For example, in Texas, home to many of the oil and energy business giants, the average salaries for chemical engineers start at $65,098. In contrast, a chemical engineer in Massachusetts could start out with a salary of just $50,366. The national average salary starts at $59,298 a year as of December 2010, according to PayScale.com.
Industries
The type of service you decide to perform with your chemical engineering degree and skills can have an effect on your starting salary. In a position with a chemical manufacturing company, an engineer will start with an average salary of $59,771 per year. For a job related to oil and gas, this goes up a small amount to $60,772, but for a position specifically dealing with petroleum refining, a chemical engineer can expect to make an average of $69,411 annually.
Type of Employer
The national salary average for a chemical engineer at a company starts at $59,783 a year. A contract worker may make less, beginning at $54,045. However, working for the government at the state and local level can bring a significantly higher salary, starting at an average of $67,859.