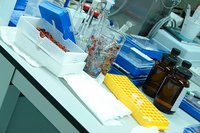 When a doctor needs to diagnose a disease or condition in a patient, they often call on a pathologist to study the tissue samples to determine the cause of the disease. Pathologists are licensed physicians, and often, due to a heavy caseload, they call on assistants for help in performing the necessary tests and analysis.
Job Description
A pathology assistant (PA) with a pathologist to examine laboratory specimens, stopping short of making the final clinical diagnoses. Pathology assistants generally conduct the initial examination of specimens, generally human tissue or cell samples, including visual examinations, photographing and cataloging, initial dissection and preparation for pathological tests. Assistants also conduct certain tests and provide the results to the pathologist for interpretation and diagnosis. In addition to their clinical duties, pathology assistants help train pathology residents, work on conference presentations and complete some administrative tasks.
Career Path
Pathology assistants generally have a bachelor's degree or higher, with an emphasis on science or medical studies. As of 2010, there are 10 Pathologist's Assistant training programs approved by the National Accrediting Agency for Clinical Laboratory Science in the U.S. However, many pathologist assistants receive on-the-job training and transition into the career from other medical professions. According to the American Association of Pathologists' Assistants, many assistants were former autopsy personnel, histotechnologists or medical technologists.
Training and Education
Pathology assistants must take a variety of science and medical courses. Most PA training programs require courses in biology, anatomy and physiology, molecular biology, pathology, immunology and genetics, among others. PA candidates also complete clinical rotations to develop skills in surgical and autopsy pathology, as well as experience working in the lab and in techniques for photographing and examining specimens.
Employment
Most pathology assistants work in hospitals or other clinical settings. State medical examiner offices also employ pathology assistants, as do private pathology laboratories, government agencies and medical schools. All pathology assistants work under the direction of a licensed pathologist. According to AAPA, pathology assistant generally earn between $60,000 and $90,000 per year, depending on their geographic location, although more experienced pathology assistants can earn over $100,000 per year.