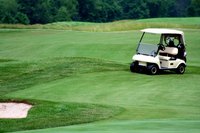 According to the Golf Course Superintendents Association of America (GCSAA), which conducts salary surveys of its membership every two years, average annual salaries for this job title have increased 60.1 percent since 1995, to a 2009 level of $78,898. GSCAA-certified superintendents, and those who work at private golf clubs, earn salaries about one-fourth more than non-certified personnel, or those at municipal clubs.
About the Job
The GCSAA defines a golf course superintendent as one who manages the upkeep of the course, landscaping of public areas, the golf cart fleet and the maintenance budget for payroll and supplies. Superintendents work an average of 45 hours per week in the winter and 57 hours per week in the summer, according to the GCSAA's 2009 survey of its membership.
Certification
Greenskeepers who have earned GCSAA certification earn an average of almost $20,000 more per year than non-certified superintendents. About 25 percent of GCSAA member superintendents are so certified; they earn an average annual pay of $93,414. GCSAA certification takes several years to attain and is based on successful completion of a fully developed work portfolio, an extensive exam and an inspection of the superintendent's facility by two certified peers.
Private Clubs
In 2009, the average annual pay for superintendents at private courses was $94,743, compared with an average of $64,287 at municipal courses and $66,387 at public daily-fee facilities.
Extra Compensation
The GCSAA survey said that 56 percent of members who responded were eligible for bonuses, based on factors such as the overall profitability of the facility or staying under budget. The average bonus paid in 2009 was $7,477.