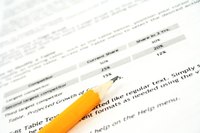 The budget report is a valuable tool that assists management in guiding a business toward its goals. The report provides detailed information on various components of the business that indicates its overall health. Potential buyers or lenders examine the budget report when determining their level of interest in the company. Auditors examine the budget reports to be certain that monies were spent in the categories where allocated, especially if the business has government grants.
Significance
Management can determine the amount of working capital, which is the cash available to pay the bills for the next 90 days, by extrapolating the information on the budget report. It can avert potential shortfalls that would damage the company's credit rating with its suppliers or potential lenders. Businesses often depend on credit from their suppliers, especially during slow sales cycles.
Function
The budget report tracks incoming monies and outgoing expenditures and compares them to the amounts allocated. Any difference, known as the variance, alerts management to a potential problem. Additionally, the report contains enough information for the business owner to estimate the value of his business, which should be calculated at least quarterly. Information the budget report provides includes the dollar amount of inventory in stock, cash assets, payroll, taxes, insurance and other financial obligations paid during the reporting period.
Features
Management can notice sales and inventory trends by comparing several months of budget reports. It can use this information to adjust the company's prices, find new suppliers, hire or lay off employees, discontinue a poorly selling line or increase production of a hot seller.
Identification
Auditors in the accounting department use the budget report to notice errors in spending, such as an employee charging an expense to the wrong category. They're able to identify fraudulent spending, such as by noticing repeat patterns of charging overtime pay without an increase in production, or repeat spending without an accompanying purchase of supplies or inventory.
Benefits
One of the important benefits of the budget report is its ability to predict future trends of business activity. For example, a business owner may notice that the business makes large purchases during the summer to prepare for the holiday season. He can avoid the expense of obtaining credit for these purchases by incorporating this yearly expenditure into the budget and creating an allocation for it.