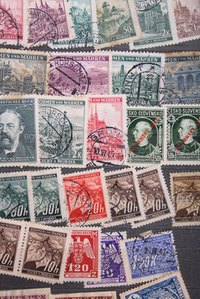 Collecting is a passion, but it can also constitute an investment, whether the collection is stamps, gold coins or old presidential-campaign buttons. If you sell your collection, the IRS counts the money you make as capital gains rather than income, which makes it subject to capital gains tax instead of income tax.
Time Frame
The tax rate you pay depends on whether you sell collectibles within a year after you bought them or hold them for a longer time, CPA Luis Ingles III states on the Bankrate website. Profits on collectibles you own less than a year are short-term gains, taxed at the same rate as your regular income. Long-term capital gains have two rates: If you're in the 15 percent tax bracket you pay 15 percent; if you're in a higher bracket, you pay 28 percent.
Significance
Capital gains taxes are higher on collectibles than other investments, such as stocks, bonds or real estate. The reason, the Greenstein, Rogoff, Olsen & Co. CPA firm states online, is that the government wants to encourage investment and development, so the highest capital-gains rate on other investments, as of 2010, is 15 percent. Investing in collectibles, in the government's view, doesn't benefit the community the way investing in business does, so someone selling stocks or a house deserves a better deal than someone selling Beanie Babies or stamps.
Basis
Capital gains isn't simply the difference between the purchase price and the sale price, the Greenstein firm states: Instead, the sales price is measured against the "basis," which includes not only the purchase price but added expenses. If you pay a dealer to negotiate the purchase of a rare coin collection, for example, you can add the dealer's fees, the cost of appraising the coins and any money you spend to maintain them to the purchase price to get your basis. If the coins cost $5,000, the fees cost $1,000 and you spent $100 on caring for them, you would subtract $6,100 from the sale price to determine your capital gains.
Inheritance
If you inherit property subject to capital gains, the basis isn't the original owner's purchase price, Ingles states. Instead, the fair market value at the time you inherited the property--you may need an appraisal to determine this--becomes your new basis. If, for example, your father bought a $5,000 antique violin for $50 at an estate sale, his capital gains if he sold it might be $4,500. When you inherit it, your basis becomes the market value-- $5,000--so if you sell it for that amount, your capital gains would be zero, and so would your taxes on the sale.