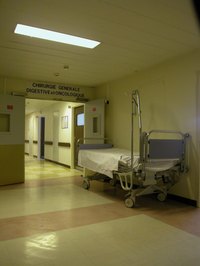 When people think about customer service, they generally think about a person behind a desk who passively listens to complaints. The nature of a hospital makes this type of customer service unrealistic and ineffective. To best work with their patients, hospitals have created the position of customer service liaison to handle the more complex and timely issues in relations between a hospital and its patients.
Function
Customer service liaisons may vary a bit in responsibilities between hospitals, but they are generally expected to be proactive facilitators between patients and their families and the hospital staff. They are far more than a person to complain to. The Phelps County Regional Medical Center in Missouri, or PCRMC, expects a customer service liaison to be the communication conduit between the hospital and its patients. This liaison is the person who forwards patient requests and concerns and communicates the results of those actions back to the patient and their families. At Margaret Mary Community Hospital in Indiana, customer service liaisons make rounds to visit each patient regularly. The hospital sees customer service liaisons as ambassadors who project the public face of the hospital.
Salary
Customer service liaisons typically earn a salary, but they may also be hourly employees. The average annual salary for a hospital customer service liaison in December 2010 was between $41,001 and $62,522, according to PayScale. Under the similar job of patient representative, Salary.com reported an average annual salary in December 2010 of $42,613. In addition to salary, total annual compensation may include overtime, bonuses, profit-sharing or retirement contributions.
Work Environment
Some hospital customer service liaisons may work on a part-time basis, but many are full-time employees. They are very active during work hours and do a great deal of walking and communicating with others. At PCRMC, customer service liaisons spend about 80 percent of their time speaking with patients, their families and visitors, and staff. Because hospital stays cause stress in patients and their families, these conversations may not always be pleasant, which can create stressful working conditions for customer service liaisons. Prompt response to patient issues can be crucial, so the environment may be fast-paced at times.
Education
The qualifications and educational requirements for hospital customer service liaisons vary. Some hospitals, such as PCRMC, require an associate's degree or completion of 60 credit hours. Others require their liaisons to have a bachelor's degree in a health-care or human relations field such as social work, psychology or education.