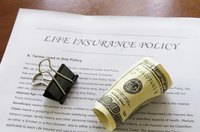 A life insurance plan pays out to a beneficiary in the event of your death. Since the beneficiary generally doesn't have to pay taxes on the income he receives from a life insurance plan, the IRS doesn't allow you a tax deduction for the premium payments. Corporations may be able to deduct the cost of life insurance premiums, but an individual cannot.
Life Insurance and Taxes
In most situations, the beneficiary does not have to report nor pay taxes on life insurance proceeds. There are a few notable exceptions. Any interest received from a life insurance plan is considered interest income and is taxable. If a policy was transferred to you for cash or some other type of consideration, the tax exclusion is limited to the amount of the cash or consideration you paid for the policy.
Exceptions
Corporations are allowed to deduct the cost of premiums paid on behalf of employees and officers. Unfortunately, there's no situation in which an individual can deduct life insurance premium payments on a personal tax return. However, other types of insurance premiums, like health insurance premiums and long-term care premiums, can be deductible.