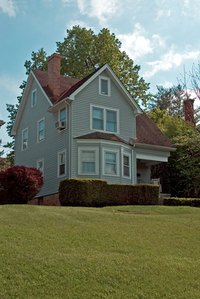 In some cases you may be able to use your student loans to make your mortgage payments. This is most likely to be the case if you are a graduate student going back to school and already own your home. This is because, while your mortgage is always a living expense you are allowed to use your loans to pay, the amount of loans you can take out may not be enough to cover it.
Federal Student Loans
The federal government offers loans to cover education expenses. These loans must first be used to cover tuition and fees. Any money that is leftover may then be used for other educational expenses, such as rent, mortgage, groceries or school supplies. The maximum federal loans available varies based on whether you are an undergraduate or graduate student and whether you are independent. An independent undergraduate may take out $12,500 each year while a graduate student may take out $20,500 each year. Depending on your tuition, this may not leave enough to cover your mortgage payments.
Private Loans
If federal loans are not enough to meet your living expenses, you may also seek private student loans. These loans will allow you to take out more money but do not share the low interest rates guaranteed by federal loans. The amount that you get depends on the individual lender but is often based on the expected cost of attendance, as determined by your school. This cost of attendance is usually based on renting an apartment and may reflect a lower amount than what you will need to pay a mortgage. However, it is worth discussing your needs with a lender and, if you get a large enough loan, you can certainly use it for your mortgage payments.
Considerations
When you use your student loan money to pay your mortgage, you are really delaying making these payments. Remember that in the future you will have to not only make the mortgage payments yourself, but pay back your student loans at the same time. Consider whether you will be able to handle this debt burden before you decide to take out student loans to pay your mortgage.
Alternatives
Consider putting off buying a house until you've completed your eduction. If you already own your home, consider other sources of income to cover your mortgage payments. You could rent out a room to another student or get a work-study position. Such alternate income sources will reduce your debt burden once you graduate.