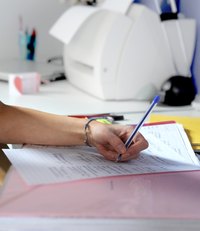 Documenting your personal belongings is important in case you need to file an insurance claim in case of a fire, flood or other mishap. A household inventory checklist will relieve the burden of trying to recall everything you've lost. All you need is a pen, some paper and the time to compile your list.
Electronic Equipment
Make sure to include all of your electronics on your checklist, including computers, cellphones, televisions, radios, DVD players and MP3 players. Wells Fargo suggests engraving your driver's license number on such items. The purpose is to help track your items if they're stolen. You also should write down serial numbers, brand names, colors and dates of purchase when possible. Include receipts with your checklist if you have them. Otherwise, estimate the value of each item at the time of purchase.
Antiques and Collectibles
Remember to include all of your antiques and collectibles on your checklist, no matter how insignificant the item seems to someone else. The 1942 mint-condition cookie jar you inherited from your aunt belongs on the checklist, as do the old coins that have been in your family for 80 years, Such items are probably worth more than you realize, as are items such as rare books, paintings and baseball cards. State Farm Insurance recommends having appraisals done on these items. Include the appraiser's name and location, and the date and value of each item.
Jewelry and Other High-Priced Items
Avoid the mistake of overlooking small items or items that you wear. You might have something stored away, such as a diamond ring or gold necklace, that belongs on the list. Items such as jewelry, sports equipment and furs are important to remember, as are sterling-silver tableware and musical instruments.
Checklist Tips
Start the list by writing down each room in your home. Do this on a blank sheet of paper or download a formatted checklist, such as the one available from the National Association of Insurance Commissioners. All you have to do after that is visit each room and add items accordingly. It is also advisable to take photos or videos of the rooms in your home. The Office of the Insurance Commissioner in the state of Washington recommends storing a copy of your checklist at home in a fireproof container. You also should update the checklist when you get new items or at the beginning of the year.