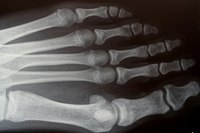 Orthopedics is a branch of medical science that deals with disorders and deformities of the spine and joints. For health-care professionals who do not have experience in the business world, promoting orthopedics might seem like a daunting task. However, there are a variety of strategies you can use to market and promote your orthopedics practice.
Email Marketing
Health-care professionals can use email marketing as a way to promote orthopedics. First, you will need to develop a website if you don't already have one. Hire an experienced graphic designer and copywriter to help you create your website. Create content that is relevant to your orthopedic patients, such as health-care reform, orthopedic surgery information and bone and joint health tips, and send your patients a newsletter every month. Add a sign-up page to your website and in your office for patients to sign up for your newsletter.
Direct Marketing
Direct marketing is another way to promote your orthopedic products or services. According to Thomas Grogan, MD, a pediatric orthopedist based in California, solo health-care professionals in particular can benefit from marketing orthopedic services directly to their patients. To develop a direct marketing campaign, partner with a direct mail company such as usadata.com, ColeLists.com or directmail.com. They will help you build a targeted list of individuals who might need your orthopedic services. Then, send out an introductory letter to these people and outline the benefits of your services.
Networking
One important aspect of promoting an orthopedic practice is networking within your community and developing relationships with the other health-care professionals, according to Becker's Orthopedic & Spine Review. Join your local chamber of commerce, and network with others in your industry. Attend orthopedic conferences and trade shows, and contact the production company for these events to see if you can be featured as a guest speaker. It is a good way to promote your orthopedic product or service to a wide audience.
Give Back
Another way to promote your orthopedics products or services is by contributing your time to charitable causes. For example, join forces with The Spine & Orthopedic Institute, a program that provides medical and surgical care for people with injuries and chronic conditions of the neck, back, joints and bones. Volunteer to hold charity drives and fund-raisers, and discuss other ways to form a mutually beneficial partnership with these charities and organizations. It is a great way to give back to a good cause, while simultaneously promoting your business and getting positive press.