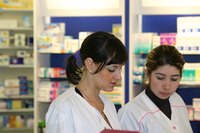 A pharmacy technician has a varying level of responsibility depending on the specific employer. Techs work with pharmacists, filling prescriptions, answering questions patients have, and using the computer and phone to interact with doctor's offices and insurance companies. Though some of the duties overlap, the pharmacy technician is paid much less and had significantly less education and training than a pharmacist.
Salary and Benefits
Wages for pharmacy technician jobs are listed as an hourly rate by those who monitor such statistics. The Bureau of Labor Statistics lists the lowest hourly rates for a pharmacy technician in 2008 as less than $9.27, and $7.69 for a pharmacy aide. Median rates were $13.32 and $11.62, respectively. PayScale breaks it down by the number of years experience using 2010 statistics, listing those with less than a year's experience as earning $8.30 to $10.79, compared to up to $11.87 for those with one to four years of experience and as much as $14.50 for those with five to nine years of experience.
Educational Requirements
The position of pharmacy technician requires a high school diploma or equivalent, and also some training and certification at the college level, which takes between six months and two years to complete. The Institute for the Certification of Pharmacy Technicians and the Pharmacy Technician Certification Board offer certification exams, though not all states require this.
Employment Outlook
The Bureau of Labor Statistics expects the number of pharmacy technicians and pharmacy aides to grow by 25 percent from 2008 to 2018, as more pharmacy workers are needed due to the growing number of those in the older age brackets. Because of this, those entering into this field have an excellent chance of future employment and pay raises.
Comparision with Pharmacist Career
The average salary for a pharmacy technician is $27,560, compared to $98,960 for a pharmacist. In making this comparison, the much greater level of college education required for a pharmacist must also be considered. Those studying to become a pharmacist must complete post-graduate level college work, in addition to a bachelor's degree in a science-related field.