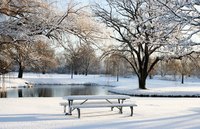 Chicago averages nearly 40 inches of snow a year, according to 2010 information from the City of Chicago website. To address the perils that come with this snow and frigid conditions, the city boasts an army of snow trucks, plows and personnel equipped with a special road salt concoction, the city's official site reports.
Basics
To prepare for the winter, the city stocks up on hundreds of thousands of tons of road salt; for the 2010-2011 winter season, the city stored 320,000 tons of salt, according to a December 2010 report from the Tribune Newspapers' site, Chicago Breaking News.
Historical Usage
According to the Chicago Breaking News report, the city used more than 200,000 tons of road salt for the 2009-2010 winter season. This season's available road salt far exceeds last year's usage because, according to the city, the average winter snowfall is 39 inches. However, for the past three consecutive winters Chicago has seen more than 50 inches of snow each season. This is only the second time in the city's history, according to the official site, that Chicago has experienced such back-to-back record snowfalls.
Preparation
The city is also armed with nearly 280 trucks, around 30 plows and another 200 garbage trucks which can quickly be equipped with plows to spread the salt, according to Chicago's official site. In addition, when temperatures dip into the low teens, the city treats the road salt with calcium chloride, which enhances the salt's effectiveness.
Alternative Solutions
In Chicagoland's McHenry County, a greener type of salt remedy is being used as concerns have arisen about salt entering both ground and surface water, according to Trib Local's Dec. 1, 2010 report. This de-icer, made of sugar beet byproducts, is also being utilized by the city of Chicago. The solution is made from beet juice, salt water and calcium chloride.
Comparison
To get a better feel for the city's road salt usage during the winter, the Illinois Department of Transportation utilized nearly 540,000 tons of salt last season. In all, the state's average annual salt bid, according to Trib Local, is nearly 1.5 million tons. The city of Chicago alone has nearly 9,500 lane miles to maintain within its route system, which is nearly the equivalent, in miles, of traveling from the Windy City to Sydney, Australia, according to the city's official site.