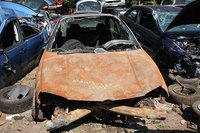 After you are involved in an automobile accident, you rely on insurance coverage to repair or replace your vehicle and to compensate you for any injuries you sustained. Unfortunately, disputes sometime arise with insurance companies regarding the handling of insurance claims. If you encounter problems settling your claim with an insurance company, there are several ways in which you can pursue a reasonable settlement.
Submit Supporting Documents
If you and the adjuster cannot come to an agreement regarding the value of your claim, you should gather documents to support the amount you are seeking. For disputes regarding the amount of damage to your vehicle, go to two or three repair facilities and request a repair estimate. If you and the adjuster cannot come to an agreement regarding the value of a totaled vehicle, search online or in the classified ads for the sales prices of similar vehicles. Send photocopies of your supporting documents to the adjuster with a letter outlining how you determined your settlement figures and request a reevaluation of the claim.
Complain to Management
If the insurance company adjuster refuses to settle your claim for what you believe is a reasonable amount, request to speak with his supervisor. If the supervisor refuses to satisfy your complaint, request to speak with the claims manager. Continue complaining to higher levels of management until your concerns are resolved or you reach an impasse.
Contact the Department of Insurance
Each state has an insurance department that regulates claims practices. If you believe your insurance company is incorrectly handling your claim, you can file a complaint with department of insurance for your state. Go to the department's website for instructions on filing a complaint. Send photocopies of the supporting documents you gathered with the complaint form. After receiving your complaint, the department of insurance will initiate an investigation of your complaint and require the insurance company take corrective action if it is not abiding by the terms of your insurance contract or the state's insurance laws.
Invoke the Appraisal Clause
If the dispute is with your insurance company and it pertains to the value of your vehicle or amount of your damages, you can invoke the appraisal clause of your contract. You cannot do this if you are disputing a liability determination or if the dispute is with someone else's insurance carrier. You and the insurance company will each hire an independent appraiser to appraise the value of the claim. A third party, commonly referred to as an umpire, is hired to render a binding decision if the two appraisers cannot come to an agreement. You are responsible for the fees of your appraiser and half of the umpire fees.
Sue in Small Claims Court
Each state sets its own limits for small claims court. Depending on the amount in dispute, you can sue in small claims court to resolve your claim. If the dispute is with someone else's insurance carrier, you have to sue the other driver. You sue the insurance company only if you are the insured. Check with your county court for instructions and claims limits for your state.
Hire an Attorney
If the amount in dispute is greater than the small claims court limit for your state or if you do not believe you are capable of negotiating with the insurance company, consider hiring an attorney. The primary drawback of hiring an attorney is that you have to pay the attorney a percentage of your settlement, typically 33 percent.