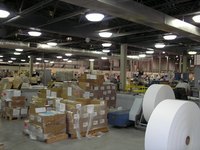 Warehousing facilities provide storage for merchandise, control inventory, deliver materials and may repackage products for distribution. The warehouse supervisor directs the activities of the workers performing duties in the warehouse. According to PayScale, the average salary for a warehouse supervisor is between $32,887 and $48,775 as of December 2010.
Education
Warehousing supervisors may be required to hold a minimum of a bachelor's degree in business, supply chain management or a logistics related field. Companies may hire a supervisor with a high school education and experience in warehousing. Supervisors may be required to plan budgets for the warehouse, create work schedules, give performance evaluations and prepare reports for management.
Experience
Employers may require warehouse supervisors to have years of experience in logistics, inventory control, supply chain management and material handling to supervise others in the organization. Supervisory experience preparing reports, budgeting and managing employees may also be required for a warehouse supervisor position. Warehouse supervisors must have experience with moving equipment and safe working procedures in a material handling environment.
Skills
Warehouse supervisors must have good written and verbal communication skills to manage employees and to provide information to upper management. Supervisors must have the ability to direct the activities of others and the ability to evaluate employees and deliver performance reviews. A supervisor must have the physical skills to perform the duties in a warehouse, such as operating a forklift, performing cycle counts, stocking shelves, and unloading and loading trucks. Supervisors may provide training to warehouse workers. Warehouse supervisors must have computer skills to prepare reports, budgets, cycle counts and schedules for management staff.
Safety Training
Safety is an important part of the training for warehouse workers. The supervisor must adhere to safety regulations and ensure that workers receive the proper training. Safe lifting and material handling prevents workplace injuries, and supervisors must ensure workers receive the training on an ongoing basis. The supervisor may deliver regular training on the proper use of material moving equipment.