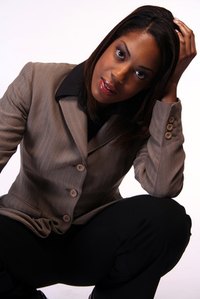 Job fairs are professional events where job seekers have the opportunity to meet with company representatives. Since this is the first meeting between candidates and potential employers, job fair visitors are expected to act and dress professionally. While men can wear a suit and button-down shirt with a tie, women have several options when it comes to looking professional.
Color Palette
Most employers at job fairs expect you to dress professionally. According to Virginia Tech, some industries will be more critical of your choice of dress than others. Keep in mind that your attire will speak volumes, but should not be the center of your appeal. The Quint Careers website suggests going with navy, black or slate as the main color of a suit or pencil skirt. Add colors with a shirt or simple accessories.
Wearing Skirts
While some women enjoy wearing skirts, others would rather wear pants any day of the week. While a pencil skirt with a blazer is often considered business attire for women, be careful with wearing a skirt to a job fair. Check the skirt in terms of knee-length and thigh coverage. Quint Careers states that it is better to be considered too conservative than to be perceived as unprofessional.
Covering Tattoos and Piercings
Some companies are flexible regarding tattoos and piercings, while others are not. Since this is your first meeting with an employer, you probably won't know whether or not the business is flexible with body art.
In order to make a good impression, cover up any tattoos on your arms with long sleeves or leggings for tattoos on the legs, if you are wearing a skirt. Remove any facial piercings during the job fair as well. It is common for women to have earrings, so do keep those if you want. But keep earrings small and tasteful; remember this is a job interview, not date night.
Pants, Skirts, Blazers and Shoes
Women can wear dress pants with a blazer jacket, but can also substitute the dress pants for a pencil skirt. Underneath the blazer, women can wear tops that add a splash of color to the attire.
Simply because you wear a black suit does not mean you cannot wear color and still look unprofessional. Choose a silk top to add a sense of luxury and elegance to the outfit. If you feel comfortable in heels, wear high heel shoes that cover your toes. If you are not comfortable in heels, do not wear sneakers or sandals. Instead, go for a closed toe ballerina flat, so the lack of high heel shoes does not take the attention of the company recruiter.