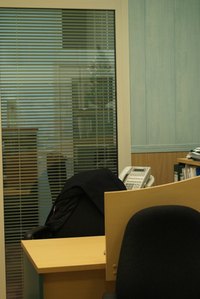 While business ethics have been discussed and formulated over many years, the recent emergence of information systems has added a new layer to the argument. It's crucial to consider ethical implications when building a network for your business, as they will affect employees' network use and standards of conduct.
Standards of Conduct
Often referred to as 'netiquette,' there is a code of conduct when working and interacting in a networked information system. For some users, the relative anonymity of the network can embolden them to behave inappropriately for an office setting. When implementing an information system in your organization, prevent conduct that could harm employees or the company image by releasing a code-of-conduct statement. Request that users be polite with fellow employees while working on the office network and to avoid cyber bullying and abbreviated netspeak. By instating this policy early on, you can ensure that the company's ethics won't be called into question if certain employees need to be reprimanded for their actions.
Network Purpose
Establish a network purpose for your information systems. In an information system for networked computers at a public library, users should have relative freedom in the websites they visit, barring illegal or obscene content. A network of computers in a corporate office should have more limited use, as employees are required to spend their time working rather than socializing on the Internet. Since the information system is at your facility, the company has the ethical right to block certain websites on each computer to increase productivity. Add non-business websites to the blocked list over time if you see a rise in visits during work hours.
Copyright
Just as with physical copies of books and other media, digital content is copyrighted. For a business owner, copying software to multiple computers without the appropriate software license to do so is breaking the law. In order to follow ethical standards, ensure that you aren't violating any copyright laws, including using images in business stationery without permission from the copyright owner. According to Margaret Lynch in her paper "Ethical Issues in Electronic Information Systems," emails are also copyrighted. Don't directly quote words from an email without permission from the writer.
Privacy
Privacy is one of the chief concerns when it comes to ethics in information technology, especially in a work environment. Computer users expect privacy when it comes to their passwords, personal information and emails, while employers want to determine if the employee's time is being used inappropriately. Many companies have installed programs to track the websites that employees visit. While this may seem unethical to some computer users, the fact that the company owns the computers means it has rights regarding what can be done with them. If a computer user doesn't want his employer to know which sites he visits, then he should limit personal use to his home computer. As of the beginning of 2011, the governing law on network privacy is the Electronic Communications Privacy Act of 1986, which doesn't take emerging technologies, such as the Internet and mobile network connections, into consideration.