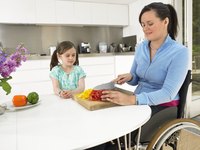 A disability prevents or limits a person's performance of life activities such as walking, seeing, hearing and learning. The fact that you or a household member has such an impairment can entitle you to special tax treatment from the Internal Revenue Service. The relief can take the form of deductions to taxable income or credits that directly lower the taxes you otherwise would have to pay.
Treating and Mitigating Disabilities
You can write off the costs of treating and reducing the effects of disabilities as medical expenses. For instance, the IRS allows you to count the costs of prosthetics, wheelchairs and service and guide animals. Tutoring and tuition and fees for schools for learning-disabled or those with other disabilities students qualify upon a doctor's recommendation. You can include that portion of the cost of magazines or books printed in Braille that exceeds the price of a regular printed edition. You must itemize deduction and may deduct only those total medical expenses that exceed 10 percent of adjusted gross income as reported on line 38 of Form 1040.
For Your Job
Spending on goods or services that allow you to work even with a disability qualify for tax breaks as well. For example, if you're hearing impaired, the costs of an interpreter for a business meeting, equipment and internet connections for video conferences and special telephones may be deductible. A sight-impaired employee also may write off the costs of a reader required for work. You must itemize deductions on Schedule A of Form 1040. Unlike medical expenses and other employee expenses, you don't have to crash any floor based on adjusted gross income to claim the deduction.
Dependent Care Credit
You can claim as a tax credit of up to 35 percent of the costs of caring for a disabled person. To take the dependent care credit for a child, you and your spouse must work or seek work and claim the child as a dependent. In addition, you can treat a disabled person who filed a joint return or had gross income more than $3,950 as a dependent. Also, you can claim the credit if the disabled person would have been a dependent if not for someone else being able to claim you or your spouse as a dependent. Examples of eligible expenses include those for a group home that keeps more than six residents and is licensed by the group home's state.
Earned Income Credit
A disabled child, regardless of age, factors into whether and how much you can claim for the Earned Income Credit. For example, in 2014, a taxpayer with one child qualified for the credit with adjusted gross income less than $38,511, or $43,951 for those married taxpayers filing jointly; the maximum credit for one qualifying child was $3,305 in 2014. You can use the ETIC Assistant at IRS.gov to determine your eligibility and estimate the amount of your credit. You must have earned income, which usually comes from a job or work for profit. Social Security disability payments do not count as earned income, even if they are to your dependents. If Social Security disability is your sole source of income, you won't qualify.
Disability Insurance
The IRS does not allow an itemized deduction for personal disability insurance premiums. If you're self-employed, you can deduct the costs of insurance to pay your overhead when you can't work because of a disability as a business expense on Schedule C of Form 1040. Otherwise, premiums for insurance that pays for earnings you lose from a disability or sickness are not deductible. In fact, if you retire on disability, you are taxed on any disability pension payments from an employer-paid plan until you reach the minimum retirement age.
Credit for Disabled Persons
Retirement on permanent disability can lead to a credit and help offset the tax on disability pension benefits from an employer-paid plan. You're considered disabled if you're not able to hold a paying job or work for profit. The IRS says you don't lose disabled status merely if you perform a hobby for free, go to school or participate in clubs, social programs or institutional therapy; your activities, though, might be evidence you can work for pay. To figure the credit, take an initial amount, which is listed in IRS Publication 524, Table 2, according to your filing status. Subtract untaxable Social Security or pension benefits and one-half of the amount by which adjusted gross income exceeds $7,500 (if single, head of household or widowed with child), $10,000 (married filing jointly) or $5,000 (married filing separately, with the spouse living separately from you).